Microwave Cooking for One by Marie T Smith
Acknowledgements
Creating this website has been a labor of love in memory of my mother. It has also been a lot of labor in terms of the amount of time and energy it has taken to get it working. Those of you who have designed a website know exactly what I mean. First you have to design it. Then you have to get it up on the web which means finding a host. Then you have to register it with directories and search engines. Finally, you constantly have to maintain it. There are several people and organizations who have been instrumental and supportive in this process, and I think it is only fitting that they be recognized.
My husband, Lloyd J H Grant, for putting up with the piles of paper that mysteriously appear around me while I am working, and giving me the time and space to concentrate on my work. Mom told me that one of the reasons she loved my father so much was because he gave her space and you need space to be creative. Lloyd gives me the space to be creative.

My father, Hubert G Smith, who I lovingly refer to as "Fluffy" and his lovely wife, Caroline, my "Second Mom." They have always been huge supporters of anything I attempt. They now live in the mountains of North Carolina.

My sister, Leslie A Abuso, who I can confide in any time, and who also provides encouragement and support. Leslie and husband Joe own and operate Genuine Hospitality Consulting.

Dr. Milburn Calhoun and the staff at Pelican Publishing Company in New Orleans for keeping my mother's vision alive by continuing to print her book.

My internet buddy, Larry Luce who had a website called Special Flavors when I started this endeavor. I simply wrote a short note after visiting his web site asking, "What about Microwave?" Since then he has been a wonderful sounding board for all my ideas about this site. Thank you, Larry, for reading all my long-winded emails.

My dear friend, Saga Stevin, who stood by me during a very difficult time in my life, when others turned their backs on me. Thank you, Saga, for your constant support, inspiration and friendship.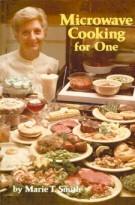 It is a very good cookbook and I have yet to find a recipe that didn't turn out as it was supposed to.—Norm Peterson, Arizona
My hubby keeps looking in the cookbook, and asks "when will you cook this recipe?"—Lori Hamby, Florida
Please note: There are several thousand external links throughout the pages of this site. To make navigating simpler for you, we have set up the links so that when you click on the first one, a new browser window will open. When you click on another link, the link will appear in the same window replacing the information of the first link (except eBay auctions, which open a new window with each item clicked on). This way, as you navigate through this site, you will not have to constantly keep closing browser windows. All links to other pages within this site will open in the current window. If a window does not open when you click on a link, check to see if you are running a pop-up blocker, which you may need to turn off in order for the new browser windows to open.
Except when you order Microwave Cooking for One by mail, we do not actually sell items directly from this site. Instead, we have done all the work to find the microwave information you are looking for on the Internet, and consolidated it here at this site. When you click on a link for a product, you will be taken to the site that actually offers the product for sale. In some instances, we earn a small commission from the site you visit. This is how we are compensated for the work we have done to bring the information to you. Thank you for supporting this site by making your purchases via the links you click here.
Copyright © 1986, 2000-2012 Marie T. Smith and Tracy V. Grant, All Rights Reserved

[Home Page] [Site Directory] [Microwaving Tips] [Contents & Recipes] [About the Author] [More Recipes] [Shopping for Utensils] [Dinnerware] [Glassware] [Pantry] [Goodie Basket] [Order Online] [Order by Mail] [Links]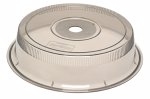 Nordic Ware Microwave Plate Cover — Concentrates heat around food and protects microwave oven against splattering!
This Page Last Modified On 06/16/12