Microwave Cooking for One by Marie T Smith
Shopping for Microwave Utensils and Other Kitchen Essentials
All-Clad
All-Clad cookware is sought after by chefs and home cooks for its exquisite styling and superior performance. The secret to All-Clad's superior performance is bonded material. The multilayered construction utilizes the best attributes of stainless steel, aluminum, and copper. The stainless-steel cooking surface is nonreactive and easy to clean. The thick aluminum or copper core provides excellent conductivity and even heat distribution. The exterior metal used on All-Clad cookware differs to appeal to a wide range of tastes. All-Clad offers a lifetime guarantee for all five cookware collections.
Originally designed to meet the demands of professional chefs, All-Clad continues to be the undisputed choice in four-star kitchens throughout the world. Exquisite lines. Impeccable balance. Meticulous hand-finishing. Construction warranted to last a lifetime. It is rare to find a product of such character and commitment. All of All-Clad's collections, as well as the non-stick options, rise to this singular standard. All feature a unique triple-ply construction, bonded to distribute heat evenly. All feature long, stay-cool handles, attached with non-corrosive, stainless rivets. All are made with a hand-polished stainless interior that won't react with food.
All-Clad can be found in elite restaurants such as Spago, Emeril's, Charlie Trotter's, and Zuni Café. Renowned chefs such as Emeril Lagasse, Bobby Flay, Ming Tsai, and Wolfgang Puck create their culinary masterpieces using All-Clad products.
What is All-Clad doing at a site about microwave cooking? This site is not just about microwave cooking. It is about making your life easier. While there are those at each end of the cooking spectrum (those who only cook in the microwave versus those who would never cook in the microwave), there are those who want a happy medium, making the best of both points of view. All-Clad is simply the best cookware for those who use traditional cooking methods some, most or all of the time.
LTD Collection
Stainless Collection
Cop-R-Chef Collection
Copper Core Collection
Master Chef 2 Collection
Look for All Clad at eBay Auctions

It is a very good cookbook and I have yet to find a recipe that didn't turn out as it was supposed to.—Norm Peterson, Arizona
My hubby keeps looking in the cookbook, and asks "when will you cook this recipe?"—Lori Hamby, Florida
Please note: There are several thousand external links throughout the pages of this site. To make navigating simpler for you, we have set up the links so that when you click on the first one, a new browser window will open. When you click on another link, the link will appear in the same window replacing the information of the first link (except eBay auctions, which open a new window with each item clicked on). This way, as you navigate through this site, you will not have to constantly keep closing browser windows. All links to other pages within this site will open in the current window. If a window does not open when you click on a link, check to see if you are running a pop-up blocker, which you may need to turn off in order for the new browser windows to open.
We do not actually sell items directly from this site. Instead, we have done all the work to find the microwave information you are looking for on the Internet, and consolidated it here at this site. When you click on a link for a product, you will be taken to the site that actually offers the product for sale. In some instances, we earn a small commission from the site you visit. This is how we are compensated for the work we have done to bring the information to you. Thank you for supporting this site by making your purchases via the links you click here.
Copyright © 1986, 2000-2013 Marie T. Smith and Tracy V. Grant, All Rights Reserved
[Home Page] [Site Directory] [Microwaving Tips] [Contents & Recipes] [About the Author] [More Recipes] [Shopping for Utensils] [Dinnerware] [Glassware] [Pantry] [Designer Corner] [Order Online] [Links]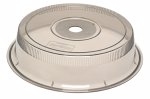 Nordic Ware Microwave Plate Cover — Concentrates heat around food and protects microwave oven against splattering!

This Page Last Modified On 07/30/13