Microwave Cooking for One by Marie T Smith
Shopping for Microwave Utensils and Other Kitchen Essentials
Find Discontinued Microwave Utensils at Auctions
Consider the following email from a visitor to this site who purchased Microwave Cooking for One.
January 14, 2001
I would like to know where the Corning Menu-ette microwave cookware can be purchased. I tried Kitchen ETC and Cooking.com, and it wasn't available at those sites. The Menu-ette sauce pan is used in a lot of the recipes in the Microwave Cooking for One cookbook. Or what other utensil would be the best? Thank You for your help.
Della
January 15, 2001

Dear Della,

Don't Panic!!!! This is not a major problem!

The only negative comment I have ever heard (actually read) about my mother's cookbook is that she described utensils by name brand. I have to agree with the critic at Publisher's Weekly on that point. While the Corning Menu-ette items were readily available when Mom wrote her book, unfortunately Corning decided to quit manufacturing that line several years ago.

The reason this is not a problem is that what is important in microwave cooking is that size and shape matter, not the brand of the utensil. If you don't have a utensil with precisely the same dimensions as the ones called for in a recipe, just try to approximate it as closely as you can. The Menu-ettes looked like round saucepans with handles, about six inches in diameter. There was a 1-pint and a 1½-pint. You can use soufflé dishes that approximate the same size. The handle is really not important. It was convenient, but not necessary. Personally, I use Corning's casseroles and pop-ins, and I still have an old set of the Menu-ettes. They're just collecting dust in my cabinets. The thing about CorningWare is it lasts forever.

If you would really, really be more comfortable using the exact items described in the book, there are always the Internet Auction sites. I did a search for you.
| | |
| --- | --- |
| | You can get this Menu-ette skillet with lid, if you out bid the $2.00 current bid and pay $4.00 shipping. |
Here is the 6" Browning skillet for only $4.99 plus $3.95 shipping. I'd snap this one up because Corning doesn't make this any more, and it is used in the book a lot. No body has even bid on it. This a real find!

Note: Notice the small feet on the browning skillet? Corning browning utensils have small feet to raise the tin-oxide-coated bottom from the surface. This is the only utensil you should cook empty in your microwave oven. You should never place this utensil in a regular oven, or use it on your stovetop.
| | |
| --- | --- |
| | And last, but certainly not least, three CorningWare pieces .... drum roll .... The 1-pint Menu-ette, the 1½-pint Menu-ette, and the Menu-ette Skillet (all three are used in Microwave Cooking for One), with one glass lid. Asking price is $15.00. No bids yet. |
Note: Links have been removed asauctions have closed.
These are just three items I found with a quick search of "CorningWare". When I did a search on "Corning" there were over 700 items listed. As I said before, CorningWare lasts forever, and always looks wonderful, so I wouldn't have any qualms about purchasing used items. They might even be collector's items one day, so it could be a good investment as well as a cooking utensil.
Why Use Auctions?
When it comes to cookware that is no longer manufactured, one of your best resources for acquiring the items you want is an online auction. Quite frankly, eBay outdoes them all. I've used one of those consolidated searches, as well as checked out individual auctions. I always find lots of results at eBay and next to none at the other auctions. I'm not saying that you shouldn't look at the other auctions, just that you're more likely to find what you're looking for quicker at eBay.

Even though the Corningware Browning utensils are no longer manufactured, you can still find many in excellent condition at the eBay Auctions. For those that come without instructions, we have posted the CorningWare Browner Instructions at this site.

Look for 1-Pint and 1½-Pint Menu-ettes at eBay Auctions

Look for Corning 1-Quart Gravy Maker at eBay Auctions
| | |
| --- | --- |
| | Another item referred to frequently in "Microwave Cooking for One," is the Corning Gravy Maker (also known as Sauce Maker). This item is no longer manufactured by Corning, but is frequently offered for sale at eBay! |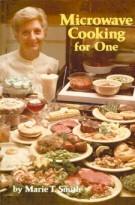 It is a very good cookbook and I have yet to find a recipe that didn't turn out as it was supposed to.—Norm Peterson, Arizona
My hubby keeps looking in the cookbook, and asks "when will you cook this recipe?"—Lori Hamby, Florida
Please note: There are several thousand external links throughout the pages of this site. To make navigating simpler for you, we have set up the links so that when you click on the first one, a new browser window will open. When you click on another link, the link will appear in the same window replacing the information of the first link (except eBay auctions, which open a new window with each item clicked on). This way, as you navigate through this site, you will not have to constantly keep closing browser windows. All links to other pages within this site will open in the current window. If a window does not open when you click on a link, check to see if you are running a pop-up blocker, which you may need to turn off in order for the new browser windows to open.
Except when you order Microwave Cooking for One by mail, we do not actually sell items directly from this site. Instead, we have done all the work to find the microwave information you are looking for on the Internet, and consolidated it here at this site. When you click on a link for a product, you will be taken to the site that actually offers the product for sale. In some instances, we earn a small commission from the site you visit. This is how we are compensated for the work we have done to bring the information to you. Thank you for supporting this site by making your purchases via the links you click here.
Copyright © 1986, 2000-2012 Marie T. Smith and Tracy V. Grant, All Rights Reserved

[Home Page] [Site Directory] [Microwaving Tips] [Contents & Recipes] [About the Author] [More Recipes] [Shopping for Utensils] [Dinnerware] [Glassware] [Pantry] [Goodie Basket] [Order Online] [Order by Mail] [Links]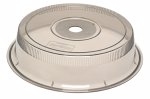 Nordic Ware Microwave Plate Cover — Concentrates heat around food and protects microwave oven against splattering!

This Page Last Modified On 06/16/12