Microwave Cooking for One by Marie T Smith
Shopping for Microwave Utensils and Other Kitchen Essentials
Chantal Ceramic Bakeware
Chantal Ceramic Bakeware is made from extra thick stoneware, so not only will it last a long time, it also retains heat longer than other materials, so your dishes will stay hot longer at the table. And because it's so good-looking, you can serve from it and not have to worry about heat lost when you transfer your recipe to a dish for serving — an important feature, especially when microwaving. The nonporous glaze won't retain food odors and is strong enough to hold up to metal utensils so you can cut helpings and serve them right from the pan, and shiny glaze won't fade even after numerous washings. You can use this bakeware in the microwave, oven and freezer — and it is dishwasher safe!
Chantal ceramic bakeware is durable, versatile, and with its richly colored, glossy finishes, a great oven-to-table choice.
Extra-thick walls and base ensure uniform baking and superior heat retention.

Bottoms are hand-sanded to a smooth finish that won't scratch tables or counters.

Nonporous glaze won't react with foods or absorb flavors and odors.

Metal utensils won't damage or mar surfaces.

Microwave, oven, freezer and dishwasher safe.

Not recommended for broiler use.

Shapes are stackable for space-efficient storage.

It is a very good cookbook and I have yet to find a recipe that didn't turn out as it was supposed to.—Norm Peterson, Arizona
My hubby keeps looking in the cookbook, and asks "when will you cook this recipe?"—Lori Hamby, Florida
Please note: There are several thousand external links throughout the pages of this site. To make navigating simpler for you, we have set up the links so that when you click on the first one, a new browser window will open. When you click on another link, the link will appear in the same window replacing the information of the first link (except eBay auctions, which open a new window with each item clicked on). This way, as you navigate through this site, you will not have to constantly keep closing browser windows. All links to other pages within this site will open in the current window. If a window does not open when you click on a link, check to see if you are running a pop-up blocker, which you may need to turn off in order for the new browser windows to open.
We do not actually sell items directly from this site. Instead, we have done all the work to find the microwave information you are looking for on the Internet, and consolidated it here at this site. When you click on a link for a product, you will be taken to the site that actually offers the product for sale. In some instances, we earn a small commission from the site you visit. This is how we are compensated for the work we have done to bring the information to you. Thank you for supporting this site by making your purchases via the links you click here.
Copyright © 1986, 2000-2013 Marie T. Smith and Tracy V. Grant, All Rights Reserved
[Home Page] [Site Directory] [Microwaving Tips] [Contents & Recipes] [About the Author] [More Recipes] [Shopping for Utensils] [Dinnerware] [Glassware] [Pantry] [Designer Corner] [Order Online] [Links]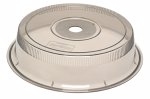 Nordic Ware Microwave Plate Cover — Concentrates heat around food and protects microwave oven against splattering!

This Page Last Modified On 07/27/13