Microwave Cooking for One by Marie T Smith
Shopping for Microwave Utensils and Other Kitchen Essentials
Chantal Teapots & Kettles
Chantal Ceramic Teapots are made from extra thick stoneware, so not only will it last a long time, it also retains heat longer than other materials, so your tea will stay hot longer at the table. And because it's so good-looking, you do not have to worry about heat loss. The nonporous glaze won't retain odors. You can use these teapots in the microwave and it is dishwasher safe!
Chantal Glossy Apple Red 3-Cup Small Tea Pot — This 1-Quart tea pot steeps and pours tea for two right at the table. The plain design and vibrant color goes with many of Chantal's stoneware tea mugs and complements most other tableware. Made of high quality stoneware, the tea pot provides excellent heat retention to keep water warm at the table. In addition, the pot has a nonporous, lead- and cadmium-free glaze that won't retain tea odors. A smooth, hand-sanded bottom ensures that the tea pot's underside won't scratch countertops or dining tables. As with all of Chantal's high-quality ceramicware, this pot can go into the dishwasher without cracking, crazing, or fading in color. This pot is for serving only and Chantal advises not to use it right on the stovetop.
Chantal Indigo Blue Tea for Couples 1-Quart Teapot with Stainless Steel Infuser — Enjoy a cup of tea with that special someone with the teapot made for two. This all-in-one teapot and stainless steel mesh infuser allows you to brew and serve your beverage without interrupting your discussion. Stoneware provides excellent heat retention and the newly designed infuser features a tab which makes it easy to lift the tea leaves out of the tea once they have finished steeping. Features: Brew and serve with this all-in-one teapot and infuser, Infuser facilitates maximum water flow for full flavored tea, Stoneware provides excellent heat retention to keep beverages warm while serving, Made of high quality non-porous stoneware that won't react or alter the flavor of tea. Makes five 6-ounce servings.
Chantal Stainless Steel 1.8-Quart Loop Teakettle — Elegant, contemporary design and ingenious functionality make Chantal's loop teakettle a favorite in the home and the design world. The brushed stainless loop teakettle garnered significant attention as well as highest honors when introduced to the market. A 2006 ADEX Platinum Award winner, this kettle received top marks for innovation, technological advancement, quality, aesthetics and value — which means it makes a really good cup of tea, beautifully. Crafted of heavy-gauge stainless steel, this kettle's ergonomic handle fits comfortably in the hand for easy pouring, and its pleasant whistle reminds us why we like tea so much. Chantal stainless steel teakettles are perfect for all stove types, EXCEPT induction.
Look for Chantal Teapots & Kettles at eBay Auctions

It is a very good cookbook and I have yet to find a recipe that didn't turn out as it was supposed to.—Norm Peterson, Arizona
My hubby keeps looking in the cookbook, and asks "when will you cook this recipe?"—Lori Hamby, Florida
Please note: There are several thousand external links throughout the pages of this site. To make navigating simpler for you, we have set up the links so that when you click on the first one, a new browser window will open. When you click on another link, the link will appear in the same window replacing the information of the first link (except eBay auctions, which open a new window with each item clicked on). This way, as you navigate through this site, you will not have to constantly keep closing browser windows. All links to other pages within this site will open in the current window. If a window does not open when you click on a link, check to see if you are running a pop-up blocker, which you may need to turn off in order for the new browser windows to open.
We do not actually sell items directly from this site. Instead, we have done all the work to find the microwave information you are looking for on the Internet, and consolidated it here at this site. When you click on a link for a product, you will be taken to the site that actually offers the product for sale. In some instances, we earn a small commission from the site you visit. This is how we are compensated for the work we have done to bring the information to you. Thank you for supporting this site by making your purchases via the links you click here.
Copyright © 1986, 2000-2013 Marie T. Smith and Tracy V. Grant, All Rights Reserved
[Home Page] [Site Directory] [Microwaving Tips] [Contents & Recipes] [About the Author] [More Recipes] [Shopping for Utensils] [Dinnerware] [Glassware] [Pantry] [Designer Corner] [Order Online] [Links]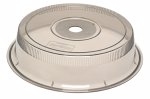 Nordic Ware Microwave Plate Cover — Concentrates heat around food and protects microwave oven against splattering!

This Page Last Modified On 07/27/13