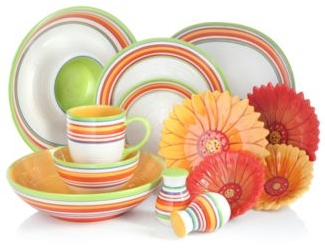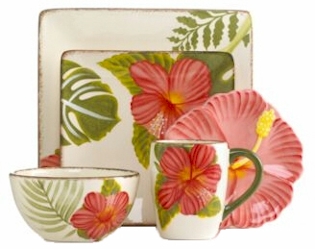 Clay Art Company of San Francisco
When Michael Zanfagna and Jenny McClain, teachers at Mission High School in San Francisco, decided in 1979 to build a business of affordable art, The Clay Art Company was born. The first product was a ceramic hand painted cherub's bottom fanny hook. It wasn't long before the company expanded into making whimsical Salt & Pepper Shakers, that are favorites among avid collectors because they are cute and humorous and cover a wide range of hobbies, situations and famous personalities.
In the late 1990s the company started producing Licensed Cookie Jars with as much enthusiasm and variety as their salt & pepper shakers. Batman, Marilyn Monroe, Babe Ruth, James Dean, Superman and Three Stooges fans (to name just a few), can store their cookies safely with their favorite personality. Also popular with collectors are the Decorative Ceramic Masks.
In 2007 Clay Art expanded into setting your entire dining table and producing wonderful dinnerware collections and serving pieces that will amuse, impress and entertain your guests.
In 2009 Clay Art was acquired by Formation Brands. While the company still produces dinnerware collections, they are created on an individual basis for large retailers like Macy's, Bealls of Florida or Target. Sometimes the collections will have the Clay Art label, and other times they will be produced under the label of a particular retail chain.
The Current Clay Art Dinnerware Collections
Clay Art Dinnerware & Serving Collections
Accidents happen and when a piece of your favorite Clay Art dinnerware breaks, it can be frustrating trying to find a replacement when you discover that your pattern has been discontinued. To help you with your search for replacement or additional pieces for your Clay Art collection, we have created this catalog of the current and discontinued Clay Art patterns. Just bookmark the page for your pattern, and check back once a week for new listings to add to your collection.
There are a lot of Clay Art patterns. Did we miss yours? We'll be happy to create a page for your pattern. Just post your request at our Facebook Page or Google+ Page.
Click on the Purple Bar above to view pictures of all the patterns with names starting with A through F, or if you know your pattern name, go directly to that page:
Click on the Purple Bar above to view pictures of all the patterns with names starting with G through R, or if you know your pattern name, go directly to that page:
Click on the Purple Bar above to view pictures of all the patterns with names starting with S through Z, or if you know your pattern name, go directly to that page: