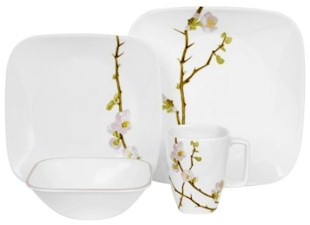 Corelle Pro Cherry Blossom
The soft pinks and browns that vine beautifully up the plates of this pattern in a cherry blossom pattern create a fresh floral look that has broad appeal. Corelle Pro is 30% thicker than traditional Corelle. The Corelle Pro Cherry Blossom collection includes: 10¼-inch Dinner Plate, 8¾-inch Salad Plate, 22-ounce Soup/Cereal Bowl, and 11-ounce Mug. Microwave and dishwasher safe.
This pattern is so popular that this was the third version created by Corelle. First, there was the Corelle Ultra Cherry Blossom that is 70% thicker than standard Corelle and was produced from 2006 to 2008. On this page we feature the Corelle Pro version sold exclusively by Target, which is 30% thicker than the Corelle Square Cherry Blossom version that was introduced in 2009.
Corelle Pro Cherry Blossom was produced from 2011 to 2012. If you need replacement or additional pieces for your Corelle Pro Cherry Blossom collection, monitor this page on a weekly basis for new listings. If you are in a hurry, here's what's available right now for immediate purchase: