Microwave Cooking for One by Marie T Smith
Shopping for Microwave Safe Dinnerware
Cuisinart Dinnerware
Cuisinart has turned its talent for superior quality and innovation to your dining table, creating a selection of dinnerware patterns that are that microwave and dishwasher safe. Plugged or unplugged, nobody covers the kitchen like Cuisinart.
Cuisinart Dinnerware Patterns
Use & Care of Your Cuisinart Dinnerware
Cuisinart is microwave, conventional oven, and dishwasher safe. Stoneware actually locks in the warmth of cooked foods for serving. Caution: do not subject to sudden or extreme temperature changes. Hot dishes can break if placed on a wet surface or handled with a wet cloth. Do not place stoneware on direct heat, in the broiler, or under microwave browning elements. Use a padded mitt when removing from oven or microwave.
Cleaning Your Cuisinart Dinnerware:
To remove baked-on food, fill your Cuisinart stoneware with warm water and detergent and soak, rather than submerge in water. Because Cuisinart dinnerware is authentic stoneware, the "foot" is unglazed. When an item is submerged, water is absorbed through this foot. This creates uneven temperatures in the piece when it's heated, which could cause crazing or cracking.

Abrasives should never be used to clean Cuisinart dinnerware. A mild, powdered cleaner should be used.

Always wash and rinse cups after serving coffee or tea to avoid stains. Soaking your stoneware in a solution of 50% liquid bleach and 50% water should remove any stains that do occur.

It is a very good cookbook and I have yet to find a recipe that didn't turn out as it was supposed to.—Norm Peterson, Arizona
My hubby keeps looking in the cookbook, and asks "when will you cook this recipe?"—Lori Hamby, Florida
Please note: There are several thousand external links throughout the pages of this site. To make navigating simpler for you, we have set up the links so that when you click on the first one, a new browser window will open. When you click on another link, the link will appear in the same window replacing the information of the first link (except eBay auctions, which open a new window with each item clicked on). This way, as you navigate through this site, you will not have to constantly keep closing browser windows. All links to other pages within this site will open in the current window. If a window does not open when you click on a link, check to see if you are running a pop-up blocker, which you may need to turn off in order for the new browser windows to open.
We do not actually sell items directly from this site. Instead, we have done all the work to find the microwave information you are looking for on the Internet, and consolidated it here at this site. When you click on a link for a product, you will be taken to the site that actually offers the product for sale. In some instances, we earn a small commission from the site you visit. This is how we are compensated for the work we have done to bring the information to you. Thank you for supporting this site by making your purchases via the links you click here.
Copyright © 1986, 2000-2013 Marie T. Smith and Tracy V. Grant, All Rights Reserved
[Home Page] [Site Directory] [Microwaving Tips] [Contents & Recipes] [About the Author] [More Recipes] [Shopping for Utensils] [Dinnerware] [Glassware] [Pantry] [Designer Corner] [Order Online] [Links]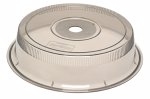 Nordic Ware Microwave Plate Cover — Concentrates heat around food and protects microwave oven against splattering!

This Page Last Modified On 04/14/12