Microwave Cooking for One by Marie T Smith
The Goodie Basket
Debbie Mumm
Debbie Mumm loves the thrill of creating new artwork and is committed to seeing her art translated into beautiful, high quality finished products. Besides characters and scenes, Debbie designs patterns, textures, and borders so that her artwork can be used in a broad range of products. Debbie keeps up with contemporary trends by introducing new color palettes and fresh new ideas with each art collection.
Debbie's goals in life are simple — have fun; laugh a lot every day; be kind and respectful to everyone. Debbie strongly believes that corporate values begin at the top and her example and dedication to her team inspires affection, loyalty, and high output by the talented staff. It is this mutual dedication that gives Debbie and her company the abilities that have secured her position atop the world's stationery, home decorating, and quilting markets.
Debbie's story could be lifted from a textbook for success. Start small, find a niche, and promote yourself. Study the market and connect with everyone from the manufacturer to the consumer. Then, throw in all the things Debbie does best — creating wonderful designs, following each design from concept to final production, and making sure each product fits her vision and high standards of quality.
The author of more than fifty books on quilting and home decorating, Debbie began her business as a quilt designer. She soon branched out to fabric design in partnership with a fabric manufacturer. That partnership was the first of many agreements with companies that loved her designs and recognized the huge marketing potential of combining Debbie's art with their products. Today, more than thirty companies have licensing agreements with Debbie Mumm, Inc. Her designs can be seen on everything from dinnerware to stationery and fabric to greeting cards.
"People often ask me how I maintain energy and enthusiasm for my business," Debbie says. "I'm energized by fresh ideas, new product concepts, and business opportunities. Pooling the creativity and talents of a whole team and knowing that I am backed by them makes each jam-packed day very fun. And, of course, success and feedback from the marketplace keep me excited and moving forward."
"I get a great deal of satisfaction out of being very productive, while at the same time it's important to me to laugh and have fun with my staff and my business partners," she said. "I have a very strong sense that what we are doing together is a very wonderful thing."

It is a very good cookbook and I have yet to find a recipe that didn't turn out as it was supposed to.—Norm Peterson, Arizona
My hubby keeps looking in the cookbook, and asks "when will you cook this recipe?"—Lori Hamby, Florida
Please note: There are several thousand external links throughout the pages of this site. To make navigating simpler for you, we have set up the links so that when you click on the first one, a new browser window will open. When you click on another link, the link will appear in the same window replacing the information of the first link (except eBay auctions, which open a new window with each item clicked on). This way, as you navigate through this site, you will not have to constantly keep closing browser windows. All links to other pages within this site will open in the current window. If a window does not open when you click on a link, check to see if you are running a pop-up blocker, which you may need to turn off in order for the new browser windows to open.
Except when you order Microwave Cooking for One by mail, we do not actually sell items directly from this site. Instead, we have done all the work to find the microwave information you are looking for on the Internet, and consolidated it here at this site. When you click on a link for a product, you will be taken to the site that actually offers the product for sale. In some instances, we earn a small commission from the site you visit. This is how we are compensated for the work we have done to bring the information to you. Thank you for supporting this site by making your purchases via the links you click here.
Copyright © 1986, 2000-2012 Marie T. Smith and Tracy V. Grant, All Rights Reserved
[Home Page] [Site Directory] [Microwaving Tips] [Contents & Recipes] [About the Author] [More Recipes] [Shopping for Utensils] [Dinnerware] [Glassware] [Pantry] [Goodie Basket] [Order Online] [Order by Mail] [Links]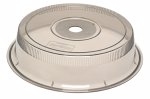 Nordic Ware Microwave Plate Cover — Concentrates heat around food and protects microwave oven against splattering!

This Page Last Modified On 06/04/12