Microwave Cooking for One by Marie T Smith
Feedback
Thank you for visiting our site. Please take a moment to let us know if your visit met up to your expectations. We'd love to hear from you! We are constantly striving to improve this site, and any comments or suggestions (positive or negative) you have, would be greatly appreciated. Visit our our Facebook Page or Google+ Page to post your comments or questions.
A Very Special Letter
I would like to share with you a very special letter my mother received back 1987, when her book was first published. While Mom received a lot of wonderful letters, this one stands out among all of them, and I have saved it all these years because my mother was overjoyed when she received this letter with the enclosed poem. Thank you Pat McKinley of Vinton, Ohio, for doing something so very special that meant so very much to my mother.
Dear Mrs. Smith,

I am enclosing a poem for you. I have trouble sometimes trying to say what I want, and I have found I can do it okay sometimes through poetry.

I hope it doesn't sound too corny, but once again.

Thank you for your book,
Pat McKinley (Vinton, Ohio)

Microwaving for One

I diced up all the onions
and chopped the peppers fine
I bought the fresh tomatoes
for recipes divine
I made the best lasagna,
and cheese sauce that's supreme
I also made a meatloaf
and rice that's such a dream
The pasta sauce is excellent
the goulash makes you drool
The cheesecake is a wonder
and served so very cool
There are so many recipes
that I have yet to make
Like Spanish chops and cornbread
and yes there's even cake
So I have stopped to tell you
that I really like your book
And also that I appreciate
the effort that it took
So thank you for this book I use
for I am having fun
By microwaving luscious things
especially for one.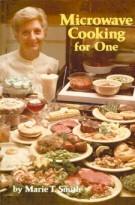 It is a very good cookbook and I have yet to find a recipe that didn't turn out as it was supposed to.—Norm Peterson, Arizona
My hubby keeps looking in the cookbook, and asks "when will you cook this recipe?"—Lori Hamby, Florida
Please note: There are several thousand external links throughout the pages of this site. To make navigating simpler for you, we have set up the links so that when you click on the first one, a new browser window will open. When you click on another link, the link will appear in the same window replacing the information of the first link (except eBay auctions, which open a new window with each item clicked on). This way, as you navigate through this site, you will not have to constantly keep closing browser windows. All links to other pages within this site will open in the current window. If a window does not open when you click on a link, check to see if you are running a pop-up blocker, which you may need to turn off in order for the new browser windows to open.
Except when you order Microwave Cooking for One by mail, we do not actually sell items directly from this site. Instead, we have done all the work to find the microwave information you are looking for on the Internet, and consolidated it here at this site. When you click on a link for a product, you will be taken to the site that actually offers the product for sale. In some instances, we earn a small commission from the site you visit. This is how we are compensated for the work we have done to bring the information to you. Thank you for supporting this site by making your purchases via the links you click here.
Copyright © 1986, 2000-2012 Marie T. Smith and Tracy V. Grant, All Rights Reserved

[Home Page] [Site Directory] [Microwaving Tips] [Contents & Recipes] [About the Author] [More Recipes] [Shopping for Utensils] [Dinnerware] [Glassware] [Pantry] [Goodie Basket] [Order Online] [Order by Mail] [Links]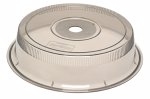 Nordic Ware Microwave Plate Cover — Concentrates heat around food and protects microwave oven against splattering!

This Page Last Modified On 06/16/12