Microwave Cooking for One by Marie T Smith
Shopping for Microwave Safe Dinnerware
Fitz and Floyd Dinnerware
Revolutionizing the ceramic design field after its start as an import company in 1960 by Pat Fitzpatrick and Bob Floyd, Fitz and Floyd has evolved into the undisputed leader in the design and manufacture of hand-painted ceramic giftware, dinnerware, tableware, decorative accessories, home fragrance and collectibles. From the drawing board to the sculpting wheel and the kiln, all Fitz and Floyd products are distinctly designed and hand-crafted by skilled Fitz and Floyd artisans. From its renowned studios in Dallas, the Fitz and Floyd design team creates the company's exclusive designs — nearly 500 new and unique designs each year.
The now popular concept of mix-and-match dinnerware — varied yet complementary designs or colors within one pattern line — caused a market breakthrough when conceived of by Fitz and Floyd in the 1970s. During the following decade, the company's sterling reputation paved the way for selection of its high-quality dinnerware by the White House and diplomatic residences around the world. Queen Elizabeth II was even presented with a Fitz and Floyd handpainted tea service commissioned by the city of Dallas when she visited in 1991.
Art glass and crystal, among other products for the home, have since been added to the Fitz and Floyd repertoire. Perhaps the company's best-loved items are its collectible figurines, especially the engaging animals from the award-winning Charming Tails collection. In addition, cookie jars, salt and pepper shakers, teapots, and many more highly detailed, vividly painted ceramics keep collectors returning to Fitz and Floyd year after year.
Fitz and Floyd — often elegant, sometimes whimsical, always a prized and treasured gift.

It is a very good cookbook and I have yet to find a recipe that didn't turn out as it was supposed to.—Norm Peterson, Arizona
My hubby keeps looking in the cookbook, and asks "when will you cook this recipe?"—Lori Hamby, Florida
Please note: There are several thousand external links throughout the pages of this site. To make navigating simpler for you, we have set up the links so that when you click on the first one, a new browser window will open. When you click on another link, the link will appear in the same window replacing the information of the first link (except eBay auctions, which open a new window with each item clicked on). This way, as you navigate through this site, you will not have to constantly keep closing browser windows. All links to other pages within this site will open in the current window. If a window does not open when you click on a link, check to see if you are running a pop-up blocker, which you may need to turn off in order for the new browser windows to open.
Except when you order Microwave Cooking for One by mail, we do not actually sell items directly from this site. Instead, we have done all the work to find the microwave information you are looking for on the Internet, and consolidated it here at this site. When you click on a link for a product, you will be taken to the site that actually offers the product for sale. In some instances, we earn a small commission from the site you visit. This is how we are compensated for the work we have done to bring the information to you. Thank you for supporting this site by making your purchases via the links you click here.
Copyright © 1986, 2000-2012 Marie T. Smith and Tracy V. Grant, All Rights Reserved
[Home Page] [Site Directory] [Microwaving Tips] [Contents & Recipes] [About the Author] [More Recipes] [Shopping for Utensils] [Dinnerware] [Glassware] [Pantry] [Goodie Basket] [Order Online] [Order by Mail] [Links]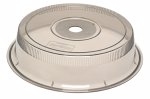 Nordic Ware Microwave Plate Cover — Concentrates heat around food and protects microwave oven against splattering!

This Page Last Modified On 06/04/12