Microwave Cooking for One by Marie T Smith
Setting the Table: Glassware
Beer Mugs
Beer mugs are also great for serving root beer floats, iced coffee, Sangria and more.

McSorley's Wonderful Saloon Mugs

McSorley's Wonderful Saloon Mugs — The undisputed champion of New York City drinking institutions is an ancient taproom called McSorley's Old Ale House, located in New York City's East Village since 1854. The authentic 8-ounce glass mugs, served two-at-a-time across McSorley's bar, are sold two-at-a-time to serious beer drinkers. Forget about buying just one.


Libbey Beer Mug
15-Ounce Capacity

Libbey Beer Mug Set of 8 — These hearty glasses call to mind old-world ale being enjoyed around a rustic wooden table. Just as it was then, beer is best served in beer mugs. This sturdy set of 8 handled mugs will add style to your service, whether for 2 or for 20. Thick base ensures they won't topple easily.


Anchor Hocking Beer Wagon Mug
16-Ounce Capacity

Anchor Hocking Beer Wagon Mug Set of 6 — Toast the end of a workday with a hoppy brown ale or welcome the beginning of the weekend with a lemon-garnished Hefeweizen in Anchor Hocking's beer wagon mug. Sold in a set of six, the oversized clear glass tankards each hold 20 ounces and offer a traditional design featuring a tall cylindrical shape, panel-cut sides, and large, easy-grasp handle. Their economical price makes it easy to stock the bar and save pennies to splurge on a specialty brew. The mugs are dishwasher-safe and made in the U.S.

Oversized, clear glass construction

Sturdy design features tall cylindrical shape, wide handle, and thick, panel-cut sides

20-Ounce Capacity

Dishwasher safe


Libbey Beer Mug
16-Ounce Capacity

Libbey Heidelberg Beer Mug Set of 4 — These heavy mugs are shaped for serving beer in traditional style. They're made of thick glass, so you can frost them in the freezer and then use them to keep beer cold to the last swig. Though the mugs' insides are perfectly round, the exteriors have 10 facets. Perfect for root beer floats as well as beer, the mugs measure 9-1/8 inches high and 3-3/8 inches in diameter. They're durable and dishwasher-safe.

Round inside, with 10 facets around the exterior

Traditional shape for serving beer

16-Ounce Capacity

Dishwasher safe


Mikasa Brewmaster's Collection

Mikasa Brewmaster's Collection — The perfect gift for beer lovers. This collection is made up of a set of four varietal glasses, set of four wheat glasses, set of four pilsner glasses, and a flight set. The sets of four glasses are gift packaged in a photo box and are enclosed with information on the four beer types, beer history, and unique differences in taste and smell, and important features of beer-specific glasses. Dishwasher safe.

It is a very good cookbook and I have yet to find a recipe that didn't turn out as it was supposed to.—Norm Peterson, Arizona
My hubby keeps looking in the cookbook, and asks "when will you cook this recipe?"—Lori Hamby, Florida
Please note: There are several thousand external links throughout the pages of this site. To make navigating simpler for you, we have set up the links so that when you click on the first one, a new browser window will open. When you click on another link, the link will appear in the same window replacing the information of the first link (except eBay auctions, which open a new window with each item clicked on). This way, as you navigate through this site, you will not have to constantly keep closing browser windows. All links to other pages within this site will open in the current window. If a window does not open when you click on a link, check to see if you are running a pop-up blocker, which you may need to turn off in order for the new browser windows to open.
We do not actually sell items directly from this site. Instead, we have done all the work to find the microwave information you are looking for on the Internet, and consolidated it here at this site. When you click on a link for a product, you will be taken to the site that actually offers the product for sale. In some instances, we earn a small commission from the site you visit. This is how we are compensated for the work we have done to bring the information to you. Thank you for supporting this site by making your purchases via the links you click here.
Copyright © 1986, 2000-2013 Marie T. Smith and Tracy V. Grant, All Rights Reserved
[Home Page] [Site Directory] [Microwaving Tips] [Contents & Recipes] [About the Author] [More Recipes] [Shopping for Utensils] [Dinnerware] [Glassware] [Pantry] [Designer Corner] [Order Online] [Links]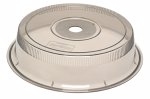 Nordic Ware Microwave Plate Cover — Concentrates heat around food and protects microwave oven against splattering!

This Page Last Modified On 06/04/12