Microwave Cooking for One by Marie T Smith
Setting the Table: Glassware
Cocktail Glasses
Whatever your preference is for an evening cocktail, be sure to serve it up in style. These cocktail glasses directly from New York City will help you to do just that!

Private Lives Martini Glass

Private Lives Martini Glass — Celebrated playwright Noel Coward would never have been caught dead without a full Martini glass and a tailor-made tuxedo. Maybe that's why he always ended up at "marvelous parties."

Start with these elegant, swellegant 6-ounce Martini glasses (props in the Broadway revival of Private Lives), add shaker, jigger, ice, gin and vermouth — and turn the cocktail hour into an occasion, the scene from a Noel Coward play.


Peppermint Lounge Twist Martini Glass

Peppermint Lounge Twist Martini Glass — The Peppermint Lounge, or The "Pep," on West 45th Street between Sixth and Seventh Avenues in New York City, was the site where youth culture crossed generational and social boundaries in the early 1960s. They twisted to the music of the house band, Joey Dee and the Starliters, who had a number one record with Peppermint Twist and starred in the movie, "Hey, Let's Twist."

The dance craze inspired a tall, 9¼-ounce martini glass, as quirky as the Peppermint Lounge itself. The top of the glass has a classic and traditional design, but halfway down the stem, a "Z" pattern gives the glass a unique "twist." (These glasses are made thick and sturdy to survive the rigors of a Twist Party).


Anchor-Hocking Manhattan Glass

Anchor-Hocking Manhattan Glass — It's rumored that the first Manhattan Cocktail was shaken in 1846, by a Maryland bartender trying to revive an injured duelist. He mixed rye whiskey, sugar syrup and bitters. No word on the duelist, but one can assume he had a fighting chance. From there, the drink traveled to Manhattan, where, in the Gay Nineties, vermouth was substituted for syrup, paving the way for today's recipe.

The Manhattan pattern is made up of concentric ribs, influenced by the signature skyscrapers of New York. These ribs are pointed so that if you rub your fingernail across them, it will catch on each one and you can hear a little "ting." The 9-ounce Manhattan pieces are heavier than most cocktail glasses because of all the glass that goes into making the ribs. You'll be less nervous about using them around clumsy friends.

It is a very good cookbook and I have yet to find a recipe that didn't turn out as it was supposed to.—Norm Peterson, Arizona
My hubby keeps looking in the cookbook, and asks "when will you cook this recipe?"—Lori Hamby, Florida
Please note: There are several thousand external links throughout the pages of this site. To make navigating simpler for you, we have set up the links so that when you click on the first one, a new browser window will open. When you click on another link, the link will appear in the same window replacing the information of the first link (except eBay auctions, which open a new window with each item clicked on). This way, as you navigate through this site, you will not have to constantly keep closing browser windows. All links to other pages within this site will open in the current window. If a window does not open when you click on a link, check to see if you are running a pop-up blocker, which you may need to turn off in order for the new browser windows to open.
We do not actually sell items directly from this site. Instead, we have done all the work to find the microwave information you are looking for on the Internet, and consolidated it here at this site. When you click on a link for a product, you will be taken to the site that actually offers the product for sale. In some instances, we earn a small commission from the site you visit. This is how we are compensated for the work we have done to bring the information to you. Thank you for supporting this site by making your purchases via the links you click here.
Copyright © 1986, 2000-2013 Marie T. Smith and Tracy V. Grant, All Rights Reserved
[Home Page] [Site Directory] [Microwaving Tips] [Contents & Recipes] [About the Author] [More Recipes] [Shopping for Utensils] [Dinnerware] [Glassware] [Pantry] [Designer Corner] [Order Online] [Links]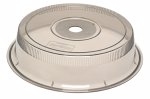 Nordic Ware Microwave Plate Cover — Concentrates heat around food and protects microwave oven against splattering!

This Page Last Modified On 06/04/12