Microwave Cooking for One by Marie T Smith
Shopping for Microwave Safe Dinnerware & Bakeware
Hartstone Pottery
The history of Hartstone Pottery is truly an inspirational American story. Hartstone was first produced in 1976 in Chatham, New Jersey. Pat and Sharon Hart's goal was to create beautiful, handcrafted quality pieces for the preparation and presentation of food. Hartstone's first product was the stoneware cookie mold, which was an instant hit, and Hartstone grew quickly. In 1983 the Harts moved their manufacturing facility to Zanesville, Ohio, in a building that was once operated by the JB Owens Pottery Company, built in 1902. This beautiful old post-and-beam building, fleeced in brick, shows the scars of many alterations, including that of fire. In 1983, Hartstone began producing hand-decorated gift and tableware. As with the cookie molds, this segment of the business grew quickly.
In the mid-1990s, the Harts sold the business to Carlisle Home Products, USA, Inc. Carlisle operated the business for almost nine years before stopping plant production in the spring of 2005, in the face of sales lost to products made by less-expensive overseas labor. Most of the factory employees found themselves without jobs.
Here's the inspirational part: In June, 2005, the pottery was reborn. A group of investors from Zanesville and other locales around the country, having heard the story of Hartstone, and recognizing the plight of its employees, negotiated with Carlisle for the purchase of the 12 acre pottery and all of its equipment. In the next few days word traveled quickly that the new entity, The Original Hartstone Pottery, Inc., had put its best foot forward and rehired former employees, restarted the manufacturing processes, and reopened the on-site factory store. Within days, loyal Hartstone customers returned to the factory store, some of them just wanting to share their enthusiasm about the reopening of a treasured landmark.
If you love hand-painted one-of-a-kind pottery, here's your opportunity to support a wonderful enterprise. Whether you're looking for accent pieces for your existing dinnerware, or looking for a fresh new look in tableware, consider Hartstone Pottery. Don't you just love a happy ending?
Hartstone products are made of fully vitrified stoneware produced from the finest raw materials in North America. The stoneware clay body is fired to 2200°F and is bright ivory in color. All body, glaze, and paint raw materials are lead and cadmium free. Hartstone products are California Proposition 65 compliant. Hartstone ceramic products are handcrafted and decorated in Zanesville, Ohio. All Hartstone Pottery is freezer and dishwasher safe, and may be used in both the microwave and conventional ovens.
The Hartstone Pottery Collections

It is a very good cookbook and I have yet to find a recipe that didn't turn out as it was supposed to.—Norm Peterson, Arizona
My hubby keeps looking in the cookbook, and asks "when will you cook this recipe?"—Lori Hamby, Florida
Please note: There are several thousand external links throughout the pages of this site. To make navigating simpler for you, we have set up the links so that when you click on the first one, a new browser window will open. When you click on another link, the link will appear in the same window replacing the information of the first link (except eBay auctions, which open a new window with each item clicked on). This way, as you navigate through this site, you will not have to constantly keep closing browser windows. All links to other pages within this site will open in the current window. If a window does not open when you click on a link, check to see if you are running a pop-up blocker, which you may need to turn off in order for the new browser windows to open.
We do not actually sell items directly from this site. Instead, we have done all the work to find the microwave information you are looking for on the Internet, and consolidated it here at this site. When you click on a link for a product, you will be taken to the site that actually offers the product for sale. In some instances, we earn a small commission from the site you visit. This is how we are compensated for the work we have done to bring the information to you. Thank you for supporting this site by making your purchases via the links you click here.
Copyright © 1986, 2000-2013 Marie T. Smith and Tracy V. Grant, All Rights Reserved
[Home Page] [Site Directory] [Microwaving Tips] [Contents & Recipes] [About the Author] [More Recipes] [Shopping for Utensils] [Dinnerware] [Glassware] [Pantry] [Designer Corner] [Order Online] [Links]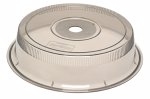 Nordic Ware Microwave Plate Cover — Concentrates heat around food and protects microwave oven against splattering!

This Page Last Modified On 06/04/12