Microwave Cooking for One by Marie T Smith
Shopping for Microwave Safe Dinnerware
Johnson Brothers Dinnerware
Johnson Brothers is committed to the highest standards of craftsmanship and to constant technological innovations, to ensure the continual production of attractive, durable patterns, which will suit a wide variety of tastes, occasions and lifestyles. New patterns and shapes are introduced each year to reflect changes in lifestyle and to ensure constant appeal for contemporary tastes.
| | |
| --- | --- |
| | Retired Johnson Brothers Patterns — Has your pattern been retired? Or is it just difficult to find online? Here are some solutions to find pieces to complete your set. |
The History of Johnson Brothers
Originally a family business, Johnson Brothers was founded in 1883 when Fredrick and Alfred Johnson — grandsons of a master potter — decided to go into business together. Located in Staffordshire, the brothers purchased The Charles Street Works factory at a bankruptcy sale. Grandsons of the famous Meakin dinnerware lineage, the brothers shared a heritage in the production of fine dinnerware. The business soon established a reputation for innovation and practicality, producing simple, lightweight tableware in durable earthenware.
The early 20th century heralded growth of both a personal and professional kind, when sons of the partners joined to help them run the family business. However, the Great War brought Johnson Brothers to a halt. It was not too long before it re-gathered its energies: new patterns and shapes were introduced, alongside innovative, under-glazed print patterns. Production innovations followed too including the installation of gas-fired tunnel kilns to replace coal-fired 'bottle' ovens in the late 1940s.
By the late 1950s, Johnson Brothers had become a substantial presence in the tableware industry. The company's dedication to providing high quality earned recognition of a high order, with the granting of two royal warrants, from HM The Queen and HM Queen Elizabeth The Queen Mother.
The company's success also attracted the attention of Wedgwood and in 1968, Johnson Brothers joined the Wedgwood Group, to form one of the largest tableware manufacturers in the world. Then, as now, the principal aim was to produce the best quality tableware of unmatched versatility and design. The aim was successfully achieved by continuing to expand their skill base and knowledge over the decades.
In the course of a century, Johnson Brothers has forged a proud reputation as one of the world's leading providers of tableware to suit a variety of tastes, offering excellent value. It is a reputation founded on a commitment to the highest standards of craftsmanship and to continual innovation in technology and design. The proud reputation of Johnson Brothers remains as strong today as it was during the 1800s. To learn more about the history of Johnson Brothers, read Johnson Brothers: Classic English Dinnerware by Dale Frederiksen and Bob Page.

It is a very good cookbook and I have yet to find a recipe that didn't turn out as it was supposed to.—Norm Peterson, Arizona
My hubby keeps looking in the cookbook, and asks "when will you cook this recipe?"—Lori Hamby, Florida
Please note: There are several thousand external links throughout the pages of this site. To make navigating simpler for you, we have set up the links so that when you click on the first one, a new browser window will open. When you click on another link, the link will appear in the same window replacing the information of the first link (except eBay auctions, which open a new window with each item clicked on). This way, as you navigate through this site, you will not have to constantly keep closing browser windows. All links to other pages within this site will open in the current window. If a window does not open when you click on a link, check to see if you are running a pop-up blocker, which you may need to turn off in order for the new browser windows to open.
We do not actually sell items directly from this site. Instead, we have done all the work to find the microwave information you are looking for on the Internet, and consolidated it here at this site. When you click on a link for a product, you will be taken to the site that actually offers the product for sale. In some instances, we earn a small commission from the site you visit. This is how we are compensated for the work we have done to bring the information to you. Thank you for supporting this site by making your purchases via the links you click here.
Copyright © 1986, 2000-2013 Marie T. Smith and Tracy V. Grant, All Rights Reserved
[Home Page] [Site Directory] [Microwaving Tips] [Contents & Recipes] [About the Author] [More Recipes] [Shopping for Utensils] [Dinnerware] [Glassware] [Pantry] [Designer Corner] [Order Online] [Links]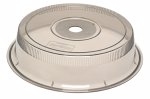 Nordic Ware Microwave Plate Cover — Concentrates heat around food and protects microwave oven against splattering!

This Page Last Modified On 04/16/12