Microwave Cooking for One by Marie T Smith
Shopping for Microwave Safe Dinnerware
Joseph Abboud Dinnerware
Joseph Abboud, born of Lebanese parentage in Boston, began his fashion design career at Louis of Boston where he spent 12 years. In 1981 he made a move to Polo/Ralph Lauren where he later became Associate Director of Menswear Design. Eventually, Joseph realized he had his own unique style that had yet to be introduced to the market and was determined to share his vision. In 1987, he launched his own signature menswear label and quickly found a niche for his American neo-traditional approach to design.
His biography, Threads: My Life Behind the Seams in the High-Stakes World of Fashion, is his off-the-record take on fashion, from the inside out. With breezy irreverence, he looks at guys and taste, divas and deviousness, fabric and texture, and all those ties. He explains the process of making great clothes, from conception and sketch to manufacturing and marketing.
Over the years Joseph has been the official designer for The NBC Olympics and CBS's March Madness. In addition to men's clothing, he has designed cars for General Motors and Buick. And now, Joseph Abboud brings his sense of style to your table with his signature line of Dinnerware Patterns.
Joseph Abboud Retired Dinnerware Patterns
Joseph Abboud Dinnerware is not currently in production. Is there a Joseph Abboud Dinnerware pattern that you adore, but alas you're having difficulty finding pieces to add to your discontinued collection? What are you to do? Don't despair! There are solutions!
One solution is to start monitoring online auctions. There are lots of Joseph Abboud Dinnerware items listed for sale at any given time. Fortunately, we've been able to simplify the process for you by breaking a lot of the Joseph Abboud Dinnerware into individual patterns and providing you with just the available listings for your pattern.
Most advertisers list an item for at least a week, so if you do not find the item you are looking for today, bookmark this page and check back each week. Eventually the item you are looking for should appear. Many of the items offered for sale are still in their original boxes, and can be purchased at a reasonable price.
Did we miss yours? We'll be happy to create a page for your pattern. Just post your request at our Facebook Page or Google+ Page.

It is a very good cookbook and I have yet to find a recipe that didn't turn out as it was supposed to.—Norm Peterson, Arizona
My hubby keeps looking in the cookbook, and asks "when will you cook this recipe?"—Lori Hamby, Florida
Threads: My Life Behind the Seams in the High-Stakes World of Fashion
Please note: There are several thousand external links throughout the pages of this site. To make navigating simpler for you, we have set up the links so that when you click on the first one, a new browser window will open. When you click on another link, the link will appear in the same window replacing the information of the first link (except eBay auctions, which open a new window with each item clicked on). This way, as you navigate through this site, you will not have to constantly keep closing browser windows. All links to other pages within this site will open in the current window. If a window does not open when you click on a link, check to see if you are running a pop-up blocker, which you may need to turn off in order for the new browser windows to open.
Except when you order Microwave Cooking for One by mail, we do not actually sell items directly from this site. Instead, we have done all the work to find the microwave information you are looking for on the Internet, and consolidated it here at this site. When you click on a link for a product, you will be taken to the site that actually offers the product for sale. In some instances, we earn a small commission from the site you visit. This is how we are compensated for the work we have done to bring the information to you. Thank you for supporting this site by making your purchases via the links you click here.
Copyright © 1986, 2000-2012 Marie T. Smith and Tracy V. Grant, All Rights Reserved
[Home Page] [Site Directory] [Microwaving Tips] [Contents & Recipes] [About the Author] [More Recipes] [Shopping for Utensils] [Dinnerware] [Glassware] [Pantry] [Goodie Basket] [Order Online] [Order by Mail] [Links]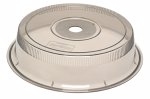 Nordic Ware Microwave Plate Cover — Concentrates heat around food and protects microwave oven against splattering!

This Page Last Modified On 06/04/12