Microwave Cooking for One by Marie T Smith
Shopping for Microwave Utensils and Other Kitchen Essentials
Michael Graves
In a line-up of contemporary architects, Michael Graves certainly can be counted among the heavy hitters, such as Robert Venturi, Frank Gehry and Charles Gwathmey. But the traditional concept of "architect" is perhaps too narrow a classification to describe Graves' appetite for design. While his colleagues might be called building specialists, Graves dubs himself a "general practitioner." Given the chance, he'll sketch furniture, umbrellas, wallets, wall clocks — you name it, and Michael Graves has probably given his spin to it.
The internationally known architect and Princeton University professor has become almost a household word — not just for his architecture, although his work, (including the Swan and Dolphin hotels in Disney World), are by no means unknown. No, Graves has delved into product design with an enthusiasm worthy of Martha Stewart. And like the doyene of the fashionable living scene, when Graves puts his name on something it gains instant cachet.
Graves blends classical allusions and whimsy. He refines an idea to its essence and then adds a distinctive stroke. It's this educated eye and sense of humor that have made him popular. The list of items he's put his mark on runs the gamut from the unusual to the mundane: charm bracelets, kitchen timers, frames, lamps, personal organizers, vases, t-shirts, salt and pepper shakers, china, book ends, weather vanes, and tuxedo studs are just a sampling ... Learn More
Michael Graves Kitchen Helpers
Michael Graves Easyfill Tea Kettle — Performance and design, and a reasonable price! Contemporary style merges with ergonomic functionality with this easy to fill stainless steel kettle by Michael Graves. The slide opening make this kettle easy to clean as well as fill, and it boasts a with a pop-off whistle. Dimensions: 10.9 " H x 9.4 " W x 8.0 " D. Hand wash only.
Michael Graves Stainless Steel Ice Bucket — This ice bucket has contemporary style with great form. An added benefit is that it comes with a scoop with a place to store it. The brushed stainless exterior looks great, whether you're serving ice for drinks at a family gathering, or impressing clients in the boardroom. The black insulated plastic interior keeps the ice cold. The clear plastic cover with the scoop that fits in position makes this the perfect ice bucket to make a design statement with. The curves and slants feel and look good. All this and the price is right. If you're looking for an ice bucket, your search is over.
Michael Graves Multi Food Chopper — Now you can chop anything from nuts and garlic to vegetables, herbs and even chocolates with ease! The Vegetable Chopper designed by Michael Graves comes equipped with a spring loaded plunger for quick and easy chopping and dicing. With just a simple press of the handle, your chopper springs into action. The self-contained base eliminates the need for a cutting board and helps keep mess to a minimum. The sharp stainless steel blades and nonslip base create a hassle-free chopping system. Dishwasher safe.
Michael Graves Black Handle Teapot — Designed for serving tea only (not for heating it), this teapot designed by Michael Graves in 2005, echoes the shape and dotted decorations of his much admired Kettle with Bird Whistle from 1985. Made of mirror-polished 18/10 stainless steel by Alessi, known as the Italian design factory, has manufactured household products since 1921.
Michael Graves White Hand Mixer — Performance and design, and a reasonable price! Whip, mix, beat, stir and blend in true contemporary style with this sleek, versatile mixer by Michael Graves. The understated design performs beautifully and doesn't splatter at high speeds. The unit comes with traditional beaters, wire whisk and drink mixer attachment. The accessories are dishwasher safe.
Look for Michael Graves Design Products at eBay Auctions
When it comes to finding Michael Graves Designs items that are difficult to find in stores near you, one of your best resources for acquiring the items you want is eBay, where there are a lot of wonderful finds still in the original boxes. We all receive those odd items as gifts that we have no need for and never use. Yet, one person's junk could be exactly the treasure you want.
If you are having difficulty finding your favorite Michael Graves Designs item, try posting what you are looking for at eBay Want-It-Now and tell millions of sellers what you want.

It is a very good cookbook and I have yet to find a recipe that didn't turn out as it was supposed to.—Norm Peterson, Arizona
My hubby keeps looking in the cookbook, and asks "when will you cook this recipe?"—Lori Hamby, Florida
Please note: There are several thousand external links throughout the pages of this site. To make navigating simpler for you, we have set up the links so that when you click on the first one, a new browser window will open. When you click on another link, the link will appear in the same window replacing the information of the first link (except eBay auctions, which open a new window with each item clicked on). This way, as you navigate through this site, you will not have to constantly keep closing browser windows. All links to other pages within this site will open in the current window. If a window does not open when you click on a link, check to see if you are running a pop-up blocker, which you may need to turn off in order for the new browser windows to open.
We do not actually sell items directly from this site. Instead, we have done all the work to find the microwave information you are looking for on the Internet, and consolidated it here at this site. When you click on a link for a product, you will be taken to the site that actually offers the product for sale. In some instances, we earn a small commission from the site you visit. This is how we are compensated for the work we have done to bring the information to you. Thank you for supporting this site by making your purchases via the links you click here.
Copyright © 1986, 2000-2013 Marie T. Smith and Tracy V. Grant, All Rights Reserved
[Home Page] [Site Directory] [Microwaving Tips] [Contents & Recipes] [About the Author] [More Recipes] [Shopping for Utensils] [Dinnerware] [Glassware] [Pantry] [Designer Corner] [Order Online] [Links]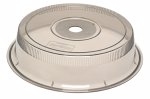 Nordic Ware Microwave Plate Cover — Concentrates heat around food and protects microwave oven against splattering!
This Page Last Modified On 06/05/12