Microwave Cooking for One by Marie T Smith
Shopping for Microwave Safe & Formal Dinnerware
Mikasa
Mikasa has long been recognized as a leader in tabletop fashion in dinnerware, crystal stemware, barware, flatware and decorative accessories. Quality and great design are synonymous with the Mikasa brand. The world's finest tabletop designers, working with the best factories, and using the most advanced technology in the industry, create products that are not only beautiful and well-made, but suitably priced for everyone's lifestyle.
Mikasa began in California in 1948 when George Aratani founded American Commercial Inc. in California. Initially a dinnerware importer, Mikasa grew into a dinnerware wholesaler over the next twenty years supplying dinnerware to popular department stores and other fine retailers. In 1957, the brand name Mikasa was introduced to the American public.
During the 1970's, Mikasa diversified its product lines to augment its already successful dinnerware lines with the introduction of crystal stemware, stainless flatware, crystal gifts and picture frames, ceramic vases, table linens and decorative accessories. In 2008 Mikasa became a part of the Lifetime Brands family.
All of the featured Mikasa patterns, without 24k gold, silver or platinum metal accents, are safe to use in your microwave and dishwasher, making these dishes both beautiful and practical for every day use!
Some stoneware patterns are also safe for oven use. However, it is recommended that when using stoneware in a standard oven, that the oven be cold when placing your stoneware into them. Turn the heat on only after placing the pottery in the oven. If you put the pottery in a hot oven, you risk breakage and cracking. The Fine China patterns are not standard oven safe.
The Current Mikasa Dinnerware & Fine China Patterns
There are quite a number of current Mikasa patterns at any given time. We provide pictures so you can see what the pattern looks like if you're not sure of the name of the pattern you are looking for. Pictures slow down the loading of pages in your browser, so we have divided the current Mikasa patterns into two sections at this website. If you know the name of your pattern, click on it directly below. If you want to browse the pictures of the available patterns, click on the purple box above the list of pattern names to see previews before selecting the pattern.

It is a very good cookbook and I have yet to find a recipe that didn't turn out as it was supposed to.—Norm Peterson, Arizona
My hubby keeps looking in the cookbook, and asks "when will you cook this recipe?"—Lori Hamby, Florida
Please note: There are several thousand external links throughout the pages of this site. To make navigating simpler for you, we have set up the links so that when you click on the first one, a new browser window will open. When you click on another link, the link will appear in the same window replacing the information of the first link (except eBay auctions, which open a new window with each item clicked on). This way, as you navigate through this site, you will not have to constantly keep closing browser windows. All links to other pages within this site will open in the current window. If a window does not open when you click on a link, check to see if you are running a pop-up blocker, which you may need to turn off in order for the new browser windows to open.
Except when you order Microwave Cooking for One by mail, we do not actually sell items directly from this site. Instead, we have done all the work to find the microwave information you are looking for on the Internet, and consolidated it here at this site. When you click on a link for a product, you will be taken to the site that actually offers the product for sale. In some instances, we earn a small commission from the site you visit. This is how we are compensated for the work we have done to bring the information to you. Thank you for supporting this site by making your purchases via the links you click here.
Copyright © 1986, 2000-2012 Marie T. Smith and Tracy V. Grant, All Rights Reserved
[Home Page] [Site Directory] [Microwaving Tips] [Contents & Recipes] [About the Author] [More Recipes] [Shopping for Utensils] [Dinnerware] [Glassware] [Pantry] [Goodie Basket] [Order Online] [Order by Mail] [Links]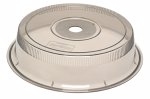 Nordic Ware Microwave Plate Cover — Concentrates heat around food and protects microwave oven against splattering!

This Page Last Modified On 03/14/13