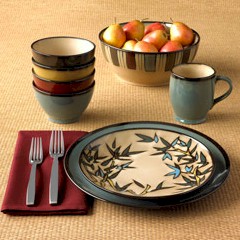 Belmont Gourmet Basics by Mikasa
Belmont Available Directly from Mikasa — Introduced in 2012. Belmont stoneware adds a striking, organic look to any table setting with a rich prism of colors in a variety of patterns that complement each other beautifully. Solid Blue, Gold, Green, and Red, pieces create an anchor for a selection of stripe, bubble, flower, and leaf designs that use the same palette, offering numerous combinations for a unique tabletop every time. Ideal for a lovely everyday table or for casual entertaining, the pattern is safe in the dishwasher and microwave for ease and convenience. Belmont is part of Gourmet Basics by Mikasa, which features everyday casual dinnerware, created with style.
A place setting of Belmont includes: 11¼-inch dinner plate, 8½-inch salad plate, 32-ounce cereal bowl and 12-ounce coffee mug. The collection is available in: 16-Piece Set (4 place settings); 32-Piece Set (8 place settings); 48-Piece Set (12 place settings); and 64-Piece Set (16 place settings).
Belmont Gourmet Basics by Mikasa Pattern Family