Microwave Cooking for One by Marie T Smith
Shopping for Microwave Safe Dinnerware
Gourmet Basics by Mikasa Brava Sage Green
The modern shape and organic wavy edges of Brava Sage Green lend a contemporary and sophisticated look for your table. This simple yet elegant stoneware pattern coordinates with any kitchen decor. Use Brava Sage Green alone or mix and match with Brava Brown, Brava Cobalt Blue, Brava Cream, Brava Plum, Brava Red, and Brava Yellow. You can also incorporate the Brava Paisley or Brava Rooster patterns to produce a new look every time you set your table. The perfect collection for everyday entertaining comes in both a round and square pattern and is dishwasher and microwave safe. Brava Sage Green is part of Gourmet Basics by Mikasa, which features everyday casual dinnerware, created with style.
Mikasa Brava Sage Green was produced from 2009 to 2011. If you need additional or replacement pieces for your Mikasa Brava Sage Green collection, monitor this page on a weekly basis for new listings. If you are in a hurry, here's what's available right now for immediate purchase:
Look for Gourmet Basics by Mikasa Brava Sage Green at eBay Auctions
If the item you are looking for is not listed, then bookmark this page and check back each week! Eventually, your item should show up for sale.
When it comes to finding Mikasa that is difficult to find in stores near you, one of your best resources for acquiring the items you want is eBay, where there are a lot of wonderful finds still in the original boxes. We all receive those odd items as gifts that we have no need for and never use. Yet, one person's junk could be exactly the treasure you want.
If you are having difficulty finding items in your pattern, try posting what you are looking for at eBay Want-It-Now and tell millions of sellers what you want.
Please Note: Not all Mikasa is safe for use in the microwave. Patterns with gold, silver or platinum decorations around the rim should not be used in your microwave because microwaves can not pass through metal. If in doubt, use this simple test: Is this Utensil Safe for the Microwave?

It is a very good cookbook and I have yet to find a recipe that didn't turn out as it was supposed to.—Norm Peterson, Arizona
My hubby keeps looking in the cookbook, and asks "when will you cook this recipe?"—Lori Hamby, Florida
Please note: There are several thousand external links throughout the pages of this site. To make navigating simpler for you, we have set up the links so that when you click on the first one, a new browser window will open. When you click on another link, the link will appear in the same window replacing the information of the first link (except eBay auctions, which open a new window with each item clicked on). This way, as you navigate through this site, you will not have to constantly keep closing browser windows. All links to other pages within this site will open in the current window. If a window does not open when you click on a link, check to see if you are running a pop-up blocker, which you may need to turn off in order for the new browser windows to open.
Except when you order Microwave Cooking for One by mail, we do not actually sell items directly from this site. Instead, we have done all the work to find the microwave information you are looking for on the Internet, and consolidated it here at this site. When you click on a link for a product, you will be taken to the site that actually offers the product for sale. In some instances, we earn a small commission from the site you visit. This is how we are compensated for the work we have done to bring the information to you. Thank you for supporting this site by making your purchases via the links you click here.
Copyright © 1986, 2000-2012 Marie T. Smith and Tracy V. Grant, All Rights Reserved
[Home Page] [Site Directory] [Microwaving Tips] [Contents & Recipes] [About the Author] [More Recipes] [Shopping for Utensils] [Dinnerware] [Glassware] [Pantry] [Goodie Basket] [Order Online] [Order by Mail] [Links]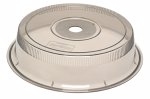 Nordic Ware Microwave Plate Cover — Concentrates heat around food and protects microwave oven against splattering!

This Page Last Modified On 03/14/13