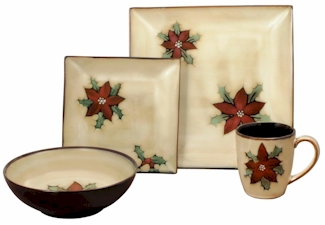 Christmas Blossom Gourmet Basics by Mikasa
Christmas Blossom Available Directly from Mikasa — Christmas Blossom captures the essence of traditional holiday warmth and brings it to a festive table with a modern geometric twist. A simple poinsettia and holly pattern of gentle red and green is complemented by a soft beige back of varying hues. Christmas Blossom is part of Gourmet Basics by Mikasa that features everyday casual dinnerware, created with style.
Gourmet Basics by Mikasa Christmas Blossom was produced from 2011 to 2013. If you need replacement or additional pieces for your collection of Mikasa Christmas Blossom, monitor this page on a weekly basis for new listings. If you are in a hurry, here's what's available right now for immediate purchase:
A four-piece place setting of Mikasa Christmas Blossom includes: 10¾-inch dinner plate, 7½-inch salad plate, 32-ounce soup bowl and 12-ounce mug. The collection is available in (all Clearance Priced): 4-Piece Set (1 place setting); 16-Piece Set (4 place settings); 32-Piece Set (8 place settings); and 48-Piece Set (12 place settings).