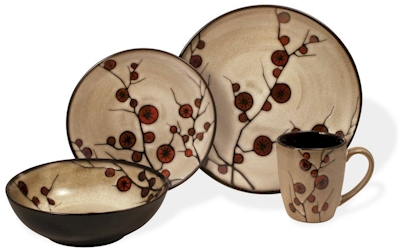 Persimmon Gourmet Basics by Mikasa
Persimmon Available Directly from Mikasa — Introduced in 2011. Persimmon is inspired by an Asian tree rich in autumn colors, as depicted by the delicate branch pattern on this lush dinnerware. The deep earth tones bring warmth to a sophisticated and subdued table setting. Ideal for a lovely everyday table or for casual entertaining, the pattern is safe in the dishwasher and microwave for ease and convenience. Persimmon is part of Gourmet Basics by Mikasa that features everyday casual dinnerware, created with style.
A place setting of Persimmon includes: 11-inch dinner plate, 8¼-inch salad plate, 32-ounce soup bowl and 12-ounce coffee mug. The collection is available in: 16-Piece Set (4 place settings); 32-Piece Set (8 place settings); 48-Piece Set (12 place settings); and 64-Piece Set (16 place settings).