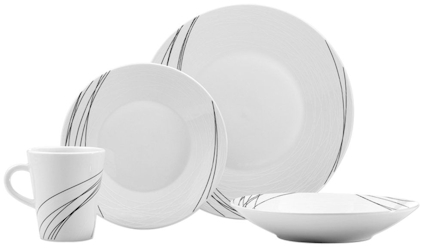 Unraveled Gourmet Basics by Mikasa
Unraveled Available Directly from Mikasa — Introduced in 2008. Dramatic yet understated. Textural black and white threads spin around the wide-rim body of this porcelain pattern. Ideal for a lovely everyday table or for casual entertaining, the pattern is safe in the dishwasher and microwave for ease and convenience. Unraveled is part of Gourmet Basics by Mikasa, which features everyday casual dinnerware, created with style.
A four-piece place setting of Mikasa Unraveled includes: 10½-inch dinner plate, 7¾-inch salad plate, 24-ounce cereal bowl and 12-ounce mug. The collection is available in: 16-Piece Set (4 place settings); 32-Piece Set (8 place settings); 48-Piece Set (12 place settings); and 64-Piece Set (16 place settings).