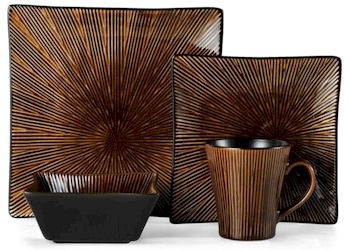 Ventosa Gourmet Basics by Mikasa
Ventosa Available Directly from Mikasa — Introduced in 2012. Ventosa makes a daring statement as it adds depth and movement to a tabletop. Organic in look and feel, the striking line design brings to mind a variety of natural visuals depending on the viewer's perspective, resembling the likes of a sunburst or forest of bamboo trees. Ideal for a lovely everyday table or for casual entertaining, the pattern is safe in the dishwasher and microwave for ease and convenience. Ventosa is part of Gourmet Basics by Mikasa, which features everyday casual dinnerware, created with style.
A four-piece place setting of Mikasa Ventosa includes: 11-inch dinner plate, 8½-inch salad plate, 22-ounce soup/cereal bowl and 14-ounce mug. The collection is available in: 16-Piece Set (4 place settings); 32-Piece Set (8 place settings); 48-Piece Set (12 place settings); and 64-Piece Set (16 place settings).
Ventosa Gourmet Basics by Mikasa Pattern Family