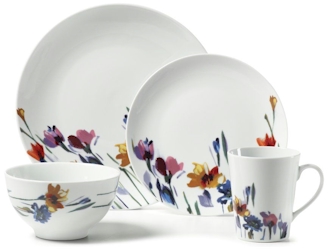 Watercolor Garden Gourmet Basics by Mikasa
Watercolor Garden Available Directly from Mikasa — Introduced in 2011. Watercolor Garden is a whimsical and colorful pattern for the modern table setting. A rich spectrum of flowers dances across the surface of each piece as if swaying in a fresh spring breeze. Watercolor Garden is part of Gourmet Basics by Mikasa, which features everyday casual dinnerware, created with style.
A four-piece place setting of Watercolor Garden includes: 10¾-inch dinner plate, 8¼-inch salad plate, 6-inch soup bowl and 12-ounce mug. The collection is available in: 16-Piece Set (4 place settings).