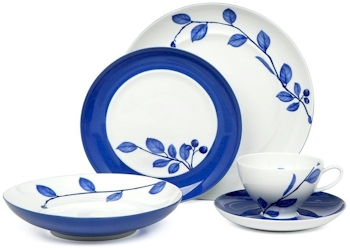 True Blue by Mikasa
True Blue Available Directly from Mikasa — A classic color combination with graceful styling, True Blue dinnerware is an any-occasion pattern with special-occasion looks. Crafted from durable porcelain, the line features a soft white base with wide bands and borders in blue. Slender and hand-painted blue branches with simple leaves add an effortless botanical accent to the design, while uniting the exterior and interior surfaces. A full collection of place settings, serveware, and accent pieces, True Blue is substantial in construction, but its rounded silhouettes and coupe shaping create a soft, approachable look. Ideal for a lovely everyday table or for casual entertaining, the pattern is safe in the dishwasher and microwave for ease and convenience. For an exciting variation in your table setting, mix and match with Daylight or Pure Red.
Mikasa True Blue (SL130) was produced from 2006 to 2013. If you need replacement or additional pieces for your collection of Mikasa True Blue, monitor this page on a weekly basis for new listings. If you are in a hurry, here's what's available right now for immediate purchase:
A five-piece place setting of Mikasa True Blue includes: 11-inch dinner plate, 8-inch dessert plate, 9-inch soup bowl and 10-ounce tea cup and 6¾-inch saucer. The collection is available in: 5-Piece Set (1 place setting); 20-Piece Set (4 place settings); 40-Piece Set (8 place settings); and 60-Piece Set (12 place settings).
True Blue by Mikasa Pattern Family

11-Inch Dinner Plate

8-Inch Dessert Plate

6¾-Inch Bread &
Butter Plate

Sugar & Creamer Set

13-Inch Charger

Salt & Pepper Set

34-Ounce Tea Pot

6-Ounce Ramekin
(Set of 4)

5-Piece Serving Set
Clearance Priced

14-Ounce Gravy Boat
With Stand

64-Ounce Coffee
Server