Bacon in the microwave is demonstrated in the above video along with Refrigerator Biscuits and Sunny Side Up Egg.
Bacon! Bacon! Bacon!
When you cook bacon on the stove, the grease cooks out and the bacon sits in it. That grease gets hot from the pan, and helps to cook the meat. Cooking bacon in your microwave reduces the amount of grease your bacon cooks in.
Utensils for Cooking Bacon in the Microwave
Currently Available On The Internet
Do you need a special utensil to cook bacon in your microwave?
No! The easiest way to cook bacon in the microwave is with paper towels on a paper plate (see instructions at bottom of this page). However, if you are interested in collecting the bacon drippings, or are concerned about a leaner, healthier way to cook your bacon, there are several products currently on the market, which facilitate cooking bacon in the microwave: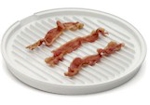 Nordic Ware's Microwave Bacon/Meat Grill is a healthy alternative to grilling on top of the stove. Instead of allowing your bacon or sausage to sit in grease as they cook, this grill has a raised cooking area so fats and oils drain away from the meats as they cook. A pouring lip allows you to easily drain away the excess fat. The grill has a round shape that rotates in the microwave, and a reversible, flat side that can be used for baking or defrosting other foods.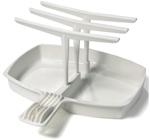 Makin Bacon Microwave Rack — This microwave bacon cooker cooks the bacon in the air and not in the fat. Simple and easy to use — hang the bacon over the bars, place one sheet of roller towel over the bacon and into the microwave. With the right amount of time you have crispy bacon with 50% less fat. Dishwasher safe.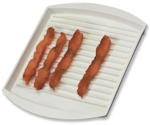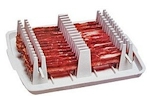 Bacon Wave is the amazing patented breakthrough you've seen on television that cooks perfect bacon in any microwave. It's special configuration lets you fit up to 14 full strips of bacon. It's designed to prevent curling and breakage. It's special design allows fat and grease to drip into it's lower pan away from bacon. Less grease, fat, cholesterol, and calories. Dishwasher Safe. Bacon Wave is stackable, allowing you to cook up to 28 strips of bacon at a time with the purchase of an additional tray.

Microwave Bacon
Here are the instructions for cooking Bacon in the microwave, from Microwave Cooking for One by Marie T. Smith:
Note: To collect bacon drippings, cook bacon in a dish with a rack. Cover bacon with paper towel to prevent splattering.
To cook 2 or 3 slices of bacon:
To cook 4 slices of bacon:
To cook 1 lb. of bacon:
Cooking times are for a 700-watt oven. For best results with this and any other microwave recipe, please be sure to go to Timing of the Microwaving Tips section for a complete explanation of timing in the microwave. (We also provide Conversion Charts to help you find the correct times for your oven!)