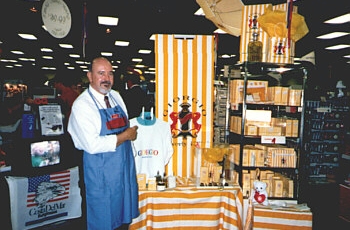 Monty 2 at a microwave demonstration while on the road with Donovan Jon Fandre.
Monty 2's Recipe for Microwave Cajun Roux
"First you make a roux," says George Montero, Jr. (aka Monty 2), who is enjoying retirement since December 1994 after a 36-year career in sales with Rubbermaid Monty 2 says, "Of the many job responsibilities throughout my career the most exciting, rewarding, and fun years were from 1983 through 1985. Rubbermaid introduced a line of microwave cookware and hired Donovan Jon Fandre, famous for his Public TV show Microwaves are for Cooking. My job was to escort Donovan around the United States and contact newspapers, television and radio stations, etc., to schedule interviews. We also performed demonstrations of microwave cooking at department stores, housewares shows, and microwave specialty stores.
Prior to this juncture of my life I didn't even own a microwave oven. As I watched Donovan, as well as other microwave chefs (Jean Durkee author of Tout de Suite I and Tout de Suite II, and Jeanne Landry author of Sauté), I developed a great interest in microwave cooking. Growing up in New Orleans I watched my mother prepare New Orleans style food — Shrimp Creole, Crawfish Étouffée, Jambalaya, Seafood Gumbo. I wanted to be able to prepare these entrées in the microwave and set about doing just that. I personally believe all of these recipes work better in the microwave because they retain more of their natural flavors.
The saying in Louisiana is, "First you make a roux" ... before you cook anything!
Roux has been used in Cajun and Creole cooking, as well as French cuisine, for decades to thicken gumbos, étouffées and sauces, and enhance meats. A roux must be stirred constantly. In conventional cooking you use a cast iron pot and spend an hour carefully monitoring the pot to achieve the same results as the recipe below, which you cook for approximately 12 minutes in a microwave oven. Jeanne Landry always used to say, "Once you make the roux and add the vegetables, you can put anything in; shrimp, crabmeat, sausage, chicken, even the legs of your favorite chair if you splinter it up. Just pour it over rice."
Please be careful when creating roux! It gets very hot!
So, put away the cast iron pot and get out a 4-Cup Pyrex glass measuring bowl and let's make some roux!

Monty 2's Microwave Cajun Roux
2/3 cup flour
2/3 cup vegetable oil
Mix flour and oil together in a 4-Cup Pyrex glass measuring bowl with a whisk until smooth. Cook 7 minutes (_____) at 100% power, stir and whisk at 4 minutes and again every 30 seconds until you achieve a dark caramel color. Don't burn the roux! PLEASE be careful, the glass measuring bowl will be extremely hot.
1 medium chopped onion
1 medium chopped green bell pepper
1 stalk chopped celery
Carefully add the onion, bell pepper and celery to the hot roux. It will sizzle and the aroma will be fantastic! Mix well. Cook 3 minutes (_____) at 100% power.
1 bunch chopped green onions (tops only)
4 cloves chopped garlic
1 bunch parsley
Add the green onions, garlic and parsley to the bowl. Cook 2 minutes (_____) at 100% power.
Monty 2's Additional Notes: If you've ever made roux the conventional way, you know that it must be watched constantly or it will burn. The first step, Oil/Flour cook on high 7 minutes, is the stage that I stir every 30 seconds after about the first 4 minutes. The mixture will start to thicken after that time and it is necessary to stir to get the smooth consistency back and also to check on the color. When the color is medium to dark caramel, I like to stop and stir out of the oven. The roux will continue to darken and you have less chance of burning it. The next two stages (3 more minutes with the tough veggies, then 2 more minutes after adding the tender veggies), you really don't have to stir while it cooks. You do have to stir the vegetables when you first put them in the hot roux, then forget it.
Congratulations! You have now made authentic Cajun Roux in your microwave. Now you have the start of authentic Cajun recipes like Monty 2's Microwave Crawfish Étouffée and Microwave Seafood Gumbo:
Microwave Crawfish Étouffée
In a 3-quart microwave safe casserole bowl add the Roux and all the ingredients and cover. Cook 12 minutes (_____) at 100% power. Stir. and cook for 12 minutes. Stir. Let stand 10 minutes (_____) before serving over rice. Don't forget the hot French bread! Serves about 10 people. Laissez les bons temps rouler!

Microwave Seafood Gumbo
In a 4-quart microwave safe casserole bowl add the Roux, seafood stock, salt, pepper, tomato paste or Rotel and bay leaves. Cook 15 minutes (_____) at 100% power.
2 lbs. peeled shrimp (raw)
1 lb. lump crab meat
1 pt. oysters (optional)
Add seafood. Cook 10 minutes (_____) at 50% power. If a thicker gumbo is desired use 16 oz. seafood stock or add file powder. Serve over rice with hot French bread.
Cooking times are for a 700-watt oven. For best results with this and any other microwave recipe, please be sure to go to Timing of the Microwaving Tips section for a complete explanation of timing in the microwave. (We also provide Conversion Charts to help you find the correct times for your oven!)