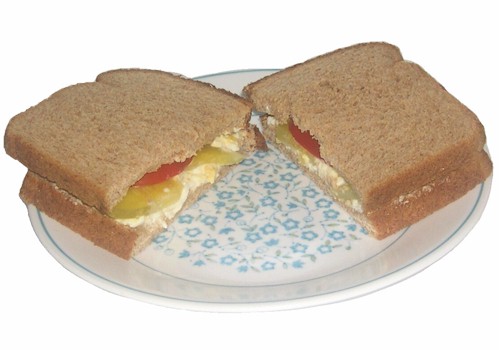 Microwave Egg Salad Sandwich
Have you heard the claim that you can't make boiled eggs in the microwave? You may have heard that an egg will explode in the microwave and you shouldn't attempt it. There are many recipes that call for one hard cooked egg in the ingredients. This recipe shows you how to cook one egg in the microwave in seconds rather than boiling water and heating up the kitchen in order to get just one hard cooked egg for a recipe.
We used our hard cooked egg to make a basic egg salad sandwich. Certainly, if you're favorite egg salad sandwich includes other ingredients like relish, olives or mustard, then experiment with the ingredients to make a sandwich suitable to your tastes. The point is that you can hard cook an egg and make a sandwich for just one person rather quickly. In addition to the recipe, you'll find a photo diary of how to prepare the sandwich at the bottom of the page.
If you're interested in learning how to cook microwave eggs in their shells, check out the Microwave Deviled Eggs recipe.

Egg Salad Sandwich
butter
1 extra-large egg
¼ tsp. water
Butter custard cup. Break egg into cup. Puncture egg yolk with fork, then sprinkle with water. Cover cup with a glass lid (from another utensil) or plastic wrap. Cook 30 seconds (_____) at 100% power. Turn cup halfway around. Cook 25 seconds (_____) at 100% power until egg is hardcooked. (Autorotating oven: Eliminate turn*.) Chill in refrigerator for 20 minutes (_____).
½ tsp. mayonnaise
½ tsp. minced fresh or frozen onion
2 slices bread
1 lettuce leaf (optional)
sliced tomatoes (optional)
sliced pickles
Mash egg in cup with fork. Add mayonnaise and onion. Mix well. Spread on one slice of bread. Cover with your favorite garnishes (lettuce leaf, tomato and/or pickle) and the other slice of bread. Cut sandwich in half and serve.
*Even with auto-rotating oven, you should cook in two steps. Otherwise, the egg cooks too fast and starts exploding.
Cooking times are for a 700-watt oven. For best results with this and any other microwave recipe, please be sure to go to Timing of the Microwaving Tips section for a complete explanation of timing in the microwave. (We also provide Conversion Charts to help you find the correct times for your oven!)
Photo Diary of Recipe Preparation

(1) Buttered cup,
punctured egg
and added water.

(2) Cover with
glass lid.

(3) If you don't have
a glass lid, you
can use plastic
wrap instead.

(4) Cook in
two steps.

(5) Refrigerate for
20 minutes.

(6) Mash egg. Add
other ingredients.

(7) Mixed well.

(8) Spread on bread.
Garnish.

(9) Serve.

(10) You can use
this method to hard
cook an egg to
chop up for other
recipes.
Click on an image to see a larger picture. You may need to turn your pop-up blocker off.