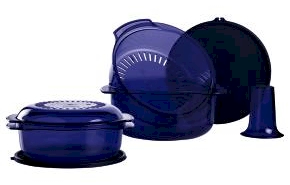 Microwave German Chocolate Cake
1 pkg. German chocolate cake mix, prepared according to package directions
1 can coconut-pecan frosting
Spread frosting in the bottom of TupperWave 3-Quart Casserole with Cone, and up the sides of the cone.
Pour the prepared cake mix evenly into the Casserole (over the frosting).
Microwave uncovered 14 minutes (_____) at 100% power.
Remove from the microwave and let set for 10 minutes.
Place the TupperWaver Cover on the Casserole and invert. The cake will fall into the cover and be ready to serve.
Cooking times are for a 700-watt oven. For best results with this and any other microwave recipe, please be sure to go to Timing of the Microwaving Tips section for a complete explanation of timing in the microwave. (We also provide Conversion Charts to help you find the correct times for your oven!)

| | | | | |
| --- | --- | --- | --- | --- |
| Picture | Product | Bids | Price | Time Left |