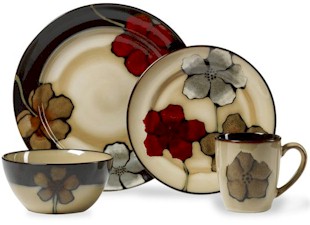 Pfaltzgraff Painted Poppies
Painted Poppies Available Directly from Pfaltzgraff — Introduced in 2011. Bold and vibrant Painted Poppies will enliven any dinner table. An earthy beige is the backdrop for large, colorful painted poppies, creating a look that is whimsical yet sophisticated. Microwave and dishwasher safe.
A place setting of Pfaltzgraff Painted Poppies includes: 11-Inch Dinner Plate, 8½-Inch Salad Plate, 24-Ounce Soup/Cereal Bowl and 13-Ounce Coffee Mug. The collection is available in: 16-Piece Set (4 place settings); 32-Piece Set (8 place settings); 48-Piece Set (12 place settings); and 64-Piece Set (16 place settings).
Pfaltzgraff Painted Poppies Pattern Family