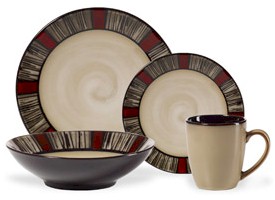 Pfaltzgraff Payson
Payson Available Directly from Pfaltzgraff — Introduced in 2011. Stylish and contemporary Payson features gently swirling beige centers and rims of broad tiles that combine solid and patterned designs with striking results. The rich color palette is a vibrant addition to any table setting. Microwave and dishwasher safe.
Pfaltzgraff retired Payson on February 28, 2013. If you need replacement or additional pieces for your Pfaltzgraff Payson collection, monitor this page on a weekly basis for new listings. If you are in a hurry, here's what's available right now for immediate purchase:
A place setting of Pfaltzgraff Payson includes: 11½-Inch Dinner Plate, 8½-Inch Salad Plate, 22-Ounce Soup/Cereal Bowl and 13-Ounce Coffee Mug. The collection is available in: 16-Piece Set (4 place settings); 32-Piece Set (8 place settings); 48-Piece Set (12 place settings); and 64-Piece Set (16 place settings).