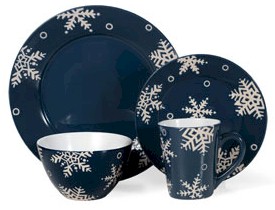 Pfaltzgraff Snow Flurry
Snow Flurry Available Directly from Pfaltzgraff — Introduced in 2011. Snow Flurry will fill your dinner table with the holiday spirit. The white background is a winter wonderland that perfectly complements the delicate red, green, and gold garland. This lovely and timeless pattern will be enjoyed for years to come. Microwave and dishwasher safe.
A place setting of Pfaltzgraff Snow Flurry includes: 11-Inch Dinner Plate, 8-Inch Salad Plate, 20-Ounce Soup/Cereal Bowl and 14-Ounce Coffee Mug. The collection is available in: 32-Piece Set (8 place settings); 48-Piece Set (12 place settings); and 64-Piece Set (16 place settings).
Pfaltzgraff Snow Flurry Pattern Family