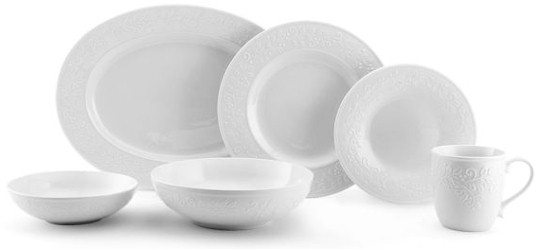 Pfaltzgraff White Holly
White Holly Available Directly from Pfaltzgraff — Introduced in 2011. White Holly is a stunning combination of traditional dinnerware design and a whimsical holiday motif that complements any table decor. The clean white surface is adorned with a raised garland of holly that circles each piece for a subtle and sophisticated touch of the holiday season. Microwave and dishwasher safe.
Pfaltzgraff retired White Holly on December 31, 2012. If you need replacement or additional pieces for your Pfaltzgraff White Holly collection, monitor this page on a weekly basis for new listings. If you are in a hurry, here's what's available right now for immediate purchase:
A place setting of Pfaltzgraff White Holly includes: 10¾-Inch Dinner Plate, 8¼-Inch Salad Plate, 22-Ounce Soup/Cereal Bowl and 18-Ounce Coffee Mug. The collection is available in a clearance priced 34-Piece Set which includes 8 place settings plus one each: Vegetable Serving Bowl and Oval Platter.
Pfaltzgraff White Holly Pattern Family


10¾-Inch Dinner Plate
Clearance Priced


8¼-Inch Salad Plate
Clearance Priced


22-Ounce Soup/Cereal Bowl
Clearance Priced


18-Ounce Coffee Mug
Clearance Priced



9-Inch Vegetable Bowl
Clearance Priced


15¼-Inch Oval Platter