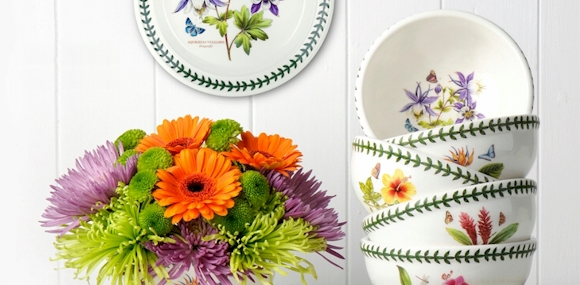 Portmeirion Dinnerware
Portmeirion Potteries Ltd, a British ceramic manufacturer based in Stoke-on-Trent, is a significant force in the pottery industry and has an established reputation for high quality and innovative design. Portmeirion manufactures an extensive range of tableware, bakeware, kitchenware and giftware which are marketed with a wide range of co-coordinating accessories in diverse materials.
Created by artist Susan Williams-Ellis, Portmeirion Potteries has a long tradition of quality materials, elegant designs, and extensive collections. Though Williams-Ellis originally sold her wares only in Portmeirion Village in North Wales, she began a wider distribution in 1960 after renovating a rundown pottery factory with her husband, Euan Cooper-Willis. Until this time, the artist had simply decorated preformed shapes of dinnerware. With the purchase of the factory, she began designing the shape and structure of the vessels as well.
The result is a collection of exceptionally harmonious pieces, including tableware, bakeware, and cookware. Within Portmeirion, individual lines take their inspiration from seasonal changes, birdlife, landscapes, and — most famously — botanical gardens. In 1990, with outlets in over 30 countries, Portmeirion received the Queen's Award for Exports. Though the company has an extensive international following, its production and design is still family-run and family-supervised.
The Current Portmeirion Patterns
The following patterns are considered current Portmeirion patterns. If you do not see your favorite pattern listed here, visit the Discontinued & Current Patterns section for a catalog of all Portmeirion patterns that we have identified.