Microwave Cooking for One by Marie T Smith
About the Author and Reviews
Louisiana Bookshelf
By Irving Ward Steinman, The Gazette, Ville Platte, LA, March 27, 1986
At last we have a zesty cookbook that concentrates on the microwave plus "cooking for just one person." This is a much needed cookbook.
Tis the old story: "When a women finds her children grown and her husband (if she has one) is away on business trips" there is no need to cook a large meal "when it is just for one person."
The microwave oven does not overheat the kitchen. It is clean, short and snappy. All that is needed are ideas for a splendid meal "just for one person" and without fuss.
This Microwave Cooking for One is simply loaded with fresh ideas. It covers breakfast, soups, sandwiches, egg-pasta-and-rice dishes, vegetables, sauces and preserves, salads, fish and shellfish, beef, other meats, poultry, beverages and snacks, cakes and frostings, cookies and candy, pies, puddings and custards, and desserts. Plus a superb index of 18 pages.
Each recipe is in bold face type — large type and next to it is the directions to achieve. An added delight are the ingredients, which includes explanations as to "how to use" for greatest efficiency and value. They cover: bacon, butter, carrots, celery, eggs, frozen vegetables, garlic, green peppers, ground beef, Mozzarella cheese, onions, parsley, potatoes, salt, sausage, fresh tomatoes, tomato paste and tomato sauce.
There is a special page for "timing" and "special tips." The breakfast variety, to illustrate, is stimulating: hot cereal, oatmeal, cream of wheat, grits, stewed prunes, flaky homemade biscuits, refrigerator biscuits, cinnamon toast, French toast, buttermilk pancakes, Leslie's favorite griddle cakes, whole-wheat pancakes, soft-boiled eggs, sunny-side-up eggs, eggs over easy, scrambled eggs, egg parmesan, poached egg on toast, ham and eggs, bacon, fresh sausage pattie, fresh link sausage, smoked country sausage and fully cooked frozen sausage.
All of this in the microwave oven! Along with the recipes are illustrations indicating the proper pot to use for the particular dish. This is a tremendous help. No guessing needed. Fourteen soup recipes are a delight and offer great variety.
Sandwiches are irresistible, quick and nourishing. This feature is overlooked in the majority of cookbooks. The author offers 23 wonderful sandwiches to tempt the cook.
One of the finest quickies for a nourishing meal are the egg-pasta-and-rice recipes. The new approaches are truly phenomenal and easy to prepare. Who can't resist cheese n' egg, Momma's egg diable, egg Florentine, and wow! Asparagus omelet plus ham and asparagus omelet. There is a Mozzarella cheese omelet, the green pepper, mushroom, onion and shrimp omelets plus egg noodles.
The variety of macaroni — with cheese, pastina, vermicelli and eggs or clam sauce. The noodle or macaroni bake and malfalda (easy lasagna). The ravioli recipe is a beaut along with the rice dishes: white, brown, with cheese or curried; rice with dill, dark rice, rice verde, Mexican rice, rice with mushrooms and egg-fried rice.
Page after page, recipe after recipe covers the galaxy of vegetables. The sauces and preserves are an innovation; a "something" new and different. It takes a hearty southerner to parade sumptuous shellfish recipes and Marie T Smith does it with elan!
The refreshing aspect of the fish and shellfish section in the marvelous Microwave Cooking for One guide are the original recipes that tease and tantalize. Name the ingredients and there is a recipe for it. Fillets galore: cheddar fish, parmesan with tomato, flounder with stuffing, crabs, smelts, scallops, crabmeat, lobster, shrimp, shrimp egg foo yung, coquiles St. Jacques, seafood muffin and lots, lots more zesties.
This truly is a fantastic and fabulous cookbook. The author, a lecturer on microwave cooking, has achieved the utmost in new ideas. In short, cooking "for one" does not have to mean opening a can of soup or living on dry sandwiches and frozen dinners.
So if you are a single, start enjoying your meals knowing that every recipe in this beautiful cookbook can be prepared quickly and easily in your microwave oven. Conventional cooking generally produces a mess, a hassle and waste. Not so when you cook in your microwave oven. Selah!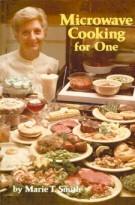 It is a very good cookbook and I have yet to find a recipe that didn't turn out as it was supposed to.—Norm Peterson, Arizona
My hubby keeps looking in the cookbook, and asks "when will you cook this recipe?"—Lori Hamby, Florida