Tableware & Decorative Accents by Rosanna
If Rosanna Bowles ran the world, everyone would sit down to dinner each evening and enjoy a fresh-cooked meal presented on exquisite dishes. She believes that eating together is truly a giving and loving experience. "Make sure you set the table every night," she reminds us.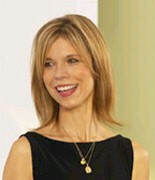 Her desire is to celebrate life — from the major milestones to the smallest of moments — creating personal traditions. Whether it's a birthday party for the kids, a glamorous soirée, or simply dining at home, stylish dishes turn any day into a special occasion. Rosanna collaborated with Italian artisans and factories to produce her original line. When the first truckload of dishes finally arrived at her doorstep, she unloaded the shipment herself and washed each piece by hand.
One million dishes and over 20 years later she runs her brisk business out of a teeming warehouse in Seattle, Washington, shipping truckloads of stylish tableware to destinations across the states and around the globe. Rosanna meets the challenge of keeping her dinnerware fresh by traveling, listening, reading, observing and continually searching for new inspiration. She stays on top of fashion, translating popular trends into whimsical accessories for the home. And she finds herself looking back as well as forward, reaching into her cherished memories of family gatherings — the Santa punchbowl set at Christmas, grandma's pastel cake stand, the sturdy serving dishes at a festive potluck. It's Rosanna's wish to bring a bit of beauty to the table, to be delighted in every day.
The Current Rosanna Collections
The following are considered current Rosanna patterns. Most are microwave safe, but some contain gold accents and should not be used in the microwave. If you do not see your favorite pattern listed here, visit the Discontinued & Current Patterns section for a catalog of all Rosanna patterns that we have identified. Current Glassware & Decorative Accessories items are listed on a separate page.