Microwave Divided Dishes & Plate Covers
We've received quite a few emails from people looking for divided trays so that they can freeze meals and reheat them in their microwave. While Microwave Cooking for One is written so that you can cook complete meals to eat immediately, there are those who have reason to cook large quantities for consumption later. For example, preparing and freezing meals for an elderly relative. Plate covers help keep your microwave oven clean by minimizing splatters. Here are the divided dishes and plate covers we've been able to find available on the Internet: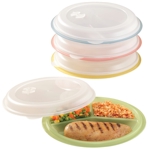 Divided Plates And Food Storage Containers — These divided plates and food storage containers with snap-on lids let you make and freeze healthy TV-dinner style meals, then just pop 'em in the microwave. Then, divided plates with lids make it easy to store leftovers back in the fridge without using multiple containers. Set of 4 tri-section sturdy plastic plates in translucent colors lets you see what's inside. Lids feature vent holes and easy-lift tabs. Microwave, freezer, and dishwasher safe. The round plates are 9¼" diameter and 1" deep. When the covers are on, it increases the height to 2"H.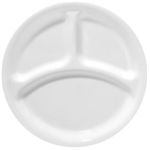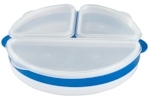 Sectioned Microwave Storage Plate — Microwave meals made easy. Divided microwave plate's 3 lidded sections pop out for perfect individual heating, then fit neatly together for mealtime convenience. Sectioned microwave storage plate is ideal for storing leftovers, reheating meals and controlling portions. Top-rack dishwasher and freezer safe. Microwave plate with lid is 1¾" H x 8½" diameter. overall.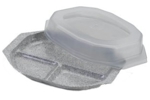 Nordic Ware Graniteware Divided TV Dinner Plate — Nordic Ware's Microwave Graniteware, is the perfect addition to any kitchen. Except for the covers (which are suitable for the microwave only), the cookware itself is safe to use in conventional ovens up to 400°F. Use these convenient and handy divided TV dinner plates for cooking, reheating and storing meals. (The complete line of Nordic Ware Graniteware is featured in our Nordic Ware section.)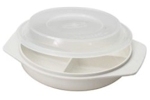 Nordic Ware Microwave Divided Dish with Cover Use for storing, heating and serving three foods at once. Ideal for leftovers and bringing lunches to work. The three compartments keep sauces and flavors from running together. You can make your meals ahead of time and freeze them for quick meals for the next week. Dishwasher safe. Made in the U.S.A.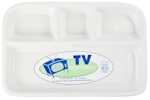 BIA White Divided TV Tray — Enjoy a stylish twist on the TV dinner with this TV tray from BIA Cordon Bleu. The all-white porcelain resists cracking, chipping, and staining. Microwave, oven and dishwasher safe. Measures 12¼"W x 1¼"H x 8"D.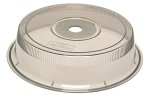 Nordic Ware's Microwave Plate Cover concentrates heat around food and keeps it moist with this transparent, high-domed plastic cover. Protects against splattering and covers dinner plates up to 11 inches in diameter. Eliminates the need for paper towels or waxed paper. Cook or warm two plates of food at once in the microwave: cover one and stack the second on top of the cover. The cover is virtually unbreakable and is safe in the freezer and dishwasher.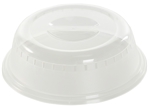 Nordic Ware Splatter Cover The 8-Inch size is perfect for smaller lunch plates or bowls to prevent splattering while you cook. A must-have accessory for cooking or re-heating small portions of food. Ideal for college students living in a dorm. Made in the U.S.A.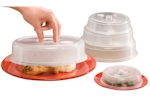 Vented Microwave Plate Covers — Keep your microwave clean. Vented microwave plate covers protect your microwave from splatters. Set of 5 covers range in size from 4½" to 8¾" diameter. Microwave plate covers are perfect for reheating a variety of dishes. Nest for easy storage. Top rack dishwasher safe.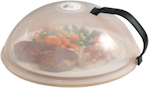 Dome Vented Microwave Cover — No more microwave messes! Large, domed vented microwave cover fits over most dishes for splatter-free microwave cooking. Adjustable vent of microwave cover allows steam to escape while evenly heating food. Microwave dome cover features stay-cool handle for safe, easy removal. Plastic. Dishwasher safe. 10"dia. x 4½"H.