Microwave Cooking for One by Marie T Smith
The Goodie Basket
Sue Zipkin
Sue Zipkin has created a national following for her unique watercolor designs. Her innovative color combinations and playful artwork bring a fresh sophistication to the home furnishings and gift markets. Sue's art transcends the test of time. Designs that were created over 12 years ago are still being collected and sought after by many loyal fans.
Sue's designs perfectly reflect her upbeat playful personality. Whether it's a bright rainbow palette or a spectrum of soft pastels Sue's work can be uplifting to the sprit. She often gets emails from people who write her and say "when I see your art I feel happy."
Sue's art can be found on many products, including: greeting cards, stationary, home décor, paper party goods, scrapbook pages, fabric, and more. She is most recognized for her top selling dinnerware designs. Sue loves to work closely with her clients. She believes that her unique vision and understanding of product design enables her to provide fresh ideas for each product.
Sue graduated from the School of Visual Arts in 1983 and started working as an in-house designer, one of the first companies she worked for was a well known casual everyday dinnerware company. In 1989 she had a dream: to become an independent designer and bring her art to a wide variety of products. While working in-house she was told that most designers that go off to work on their own fail. She knew then that it was her destiny to succeed as a licensed designer. She created a portfolio and followed her passion.
Currently Sue lives with her patient, supportive husband Bob, her sweet silly son Max, and her senile cat Sammy. They live in a home in the suburbs of NY and their home is high on a rocky hill that overlooks a magical forest like backyard.
Look for Sue Zipkin at eBay Auctions
When it comes to finding Sue Zipkin that is difficult to find in stores near you, one of your best resources for acquiring the items you want is eBay, where there are a lot of wonderful finds still in the original boxes. We all receive those odd items as gifts that we have no need for and never use. Yet, one person's junk could be exactly the treasure you want.

It is a very good cookbook and I have yet to find a recipe that didn't turn out as it was supposed to.—Norm Peterson, Arizona
My hubby keeps looking in the cookbook, and asks "when will you cook this recipe?"—Lori Hamby, Florida
Please note: There are several thousand external links throughout the pages of this site. To make navigating simpler for you, we have set up the links so that when you click on the first one, a new browser window will open. When you click on another link, the link will appear in the same window replacing the information of the first link (except eBay auctions, which open a new window with each item clicked on). This way, as you navigate through this site, you will not have to constantly keep closing browser windows. All links to other pages within this site will open in the current window. If a window does not open when you click on a link, check to see if you are running a pop-up blocker, which you may need to turn off in order for the new browser windows to open.
We do not actually sell items directly from this site. Instead, we have done all the work to find the microwave information you are looking for on the Internet, and consolidated it here at this site. When you click on a link for a product, you will be taken to the site that actually offers the product for sale. In some instances, we earn a small commission from the site you visit. This is how we are compensated for the work we have done to bring the information to you. Thank you for supporting this site by making your purchases via the links you click here.
Copyright © 1986, 2000-2013 Marie T. Smith and Tracy V. Grant, All Rights Reserved
[Home Page] [Site Directory] [Microwaving Tips] [Contents & Recipes] [About the Author] [More Recipes] [Shopping for Utensils] [Dinnerware] [Glassware] [Pantry] [Designer Corner] [Order Online] [Links]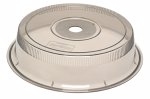 Nordic Ware Microwave Plate Cover — Concentrates heat around food and protects microwave oven against splattering!

This Page Last Modified On 06/14/12