Microwave Cooking for One by Marie T Smith
Shopping for Microwave Safe Dinnerware
Rhapsody by Tracy Porter
With cheeky monkeys, fanciful flowers and bright tropical hues, the Tracy Porter Rhapsody Collection brings charm and whimsy to your tabletop. Add a little sunshine to your meals and radiance to your life with the lush pink, orange, red and greens represented on this functional yet decorative collection. Microwave and dishwasher safe.
Tracy Porter's Rhapsody was produced from 2005 to 2008. If you need replacement or additional pieces for your Rhapsody collection, monitor this page on a weekly basis for new listings. If you are in a hurry, here's what's available right now for immediate purchase:
Rhapsody by Tracy Porter Pattern Family
| | | | |
| --- | --- | --- | --- |
| 11-Inch Dinner Plate | 8-Inch Salad/Dessert Plate | 7½-Inch Soup/Cereal Bowl | 14-Ounce Mug |
Look for Tracy Porter's Rhapsody at eBay Auctions
If the item you are looking for is not listed, then bookmark this page and check back each week! Eventually, your item should show up for sale.
When it comes to finding Tracy Porter items that are difficult to find in stores near you, one of your best resources for acquiring the items you want is eBay, where there are a lot of wonderful finds still in the original boxes. We all receive those odd items as gifts that we have no need for and never use. Yet, one person's junk could be exactly the treasure you want.

It is a very good cookbook and I have yet to find a recipe that didn't turn out as it was supposed to.—Norm Peterson, Arizona
My hubby keeps looking in the cookbook, and asks "when will you cook this recipe?"—Lori Hamby, Florida
Please note: There are several thousand external links throughout the pages of this site. To make navigating simpler for you, we have set up the links so that when you click on the first one, a new browser window will open. When you click on another link, the link will appear in the same window replacing the information of the first link (except eBay auctions, which open a new window with each item clicked on). This way, as you navigate through this site, you will not have to constantly keep closing browser windows. All links to other pages within this site will open in the current window. If a window does not open when you click on a link, check to see if you are running a pop-up blocker, which you may need to turn off in order for the new browser windows to open.
We do not actually sell items directly from this site. Instead, we have done all the work to find the microwave information you are looking for on the Internet, and consolidated it here at this site. When you click on a link for a product, you will be taken to the site that actually offers the product for sale. In some instances, we earn a small commission from the site you visit. This is how we are compensated for the work we have done to bring the information to you. Thank you for supporting this site by making your purchases via the links you click here.
Copyright © 1986, 2000-2013 Marie T. Smith and Tracy V. Grant, All Rights Reserved
[Home Page] [Site Directory] [Microwaving Tips] [Contents & Recipes] [About the Author] [More Recipes] [Shopping for Utensils] [Dinnerware] [Glassware] [Pantry] [Designer Corner] [Order Online] [Links]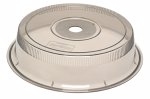 Nordic Ware Microwave Plate Cover — Concentrates heat around food and protects microwave oven against splattering!

This Page Last Modified On 06/16/12