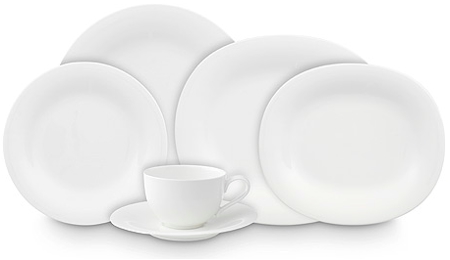 Villeroy & Boch New Cottage
New Cottage Available Directly From Villeroy & Boch — Introduced in 2009. In recent years, extravagantly designed white tableware has set the trend. The range of products offered has become so complicated to make it bewildering. Villeroy & Boch has counteracted the confusion by introducing the New Cottage tableware series to give clarity and to redefine white tableware: subtle, unpretentious and uncomplicated. New Cottage does not rely on short-term trends but on tradition and timelessness. New Cottage features form which is focused on nature's harmonizing characteristics and which incorporates modern lifestyle themes, achieving a design which gives a sense of lightness. To complete the lifestyle theme of a "healthy diet" coordinate with the New Cottage Special selection of dishes. Add a splash of color to your table setting with Mariefleur and Mariefleur Gris.
People who, on the one hand, are deeply rooted in traditional values but, on the other, have a modern lifestyle, which they structure to give a clear, harmonious environment with their own personal touch, will be inspired by the authentic forms of New Cottage: They identify with nature's themes and, at the same time, appreciate the special design elements it gives them to set a beautifully laid table. Inspired by the minimalized beauty of private gardens, New Cottage represents a new natural setting — full of tranquility and familiarity. Microwave and dishwasher safe.
Villeroy & Boch New Cottage Pattern Family