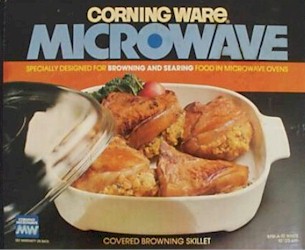 CorningWare Browner Instructions
Please Note: These instructions were transcribed from a Canadian version (circa 1986) of the instructions that CorningWare included with the Browning Utensils. The instructions (as noted on the chart at the bottom of this page) were written for use with a 650-Watt oven. Therefore, you will probably need to use the Conversion Charts at this site to adjust the times.
(Scroll Down to bottom of page for options to purchase CorningWare Browning Utensils)
WHY A MICROWAVE BROWNER?
In microwave cooking some foods cook in too short a time to brown naturally. Generally, these are the types of food cooked by frying on the range in a fry pan or skillet. The Corning Microwave Browners allow browning, searing, grilling and frying during microwave cooking, producing colour as well as flavour.
WHAT ARE THEY?
Certain Corning Ware cookware items have a special light gray coating on the outside bottom of the utensil. This coating, when the EMPTY BROWNER IS PREHEATED in the microwave oven, absorbs microwave energy producing a hot cooking surface that sears or browns food. Feet or other design features keep the hot coated surface from touching the microwave shelf. USE MICROWAVE BROWNERS IN MICROWAVE OVENS ONLY.
Note: Regular CORNINGWARE cookware without this special coating can NOT be used as a browner.
WHEN TO USE A MICROWAVE BROWNER?
Foods that require a hot surface such as meat patties, steaks, chops, chicken pieces, fish, grilled sandwiches, frozen pizza are best cooked on a microwave browner. Roasts or large pieces of meat or poultry do not require a microwave browner as their longer cooking time allows natural browning of the food.
HOW TO USE A MICROWAVE BROWNER
Place EMPTY microwave browner (without cover) in microwave oven.
Preheat the microwave browner for the same reason as preheating a rangetop fry pan, to make a hot surface which will brown foods.
Using FULL POWER (OR HIGH SETTING) PREHEAT FOR TIME SUGGESTED on browner Cooking Chart (at bottom of this page).*

DO NOT preheat longer than:


4 minutes for small (MW-83-W)
6 minutes for medium (MW-9)
8 minutes for large (MW2, MWA-10)

Longer preheat time can cause breakage to the microwave oven glass shelf.

Preheat time depends on the size of browner, type of food etc. Adjust suggested times for desired results. If necessary, rotate cookware during preheat period.

IMMEDIATELY PLACE FOOD ON THE HOT SURFACE OF THE BROWNER as surface cools off quickly reducing browning.
If possible leave cookware in oven. Food must make good contact with cooking surface in order to brown. Smoking and spattering will occur as in any frying or broiling situation.

MICROWAVE FOR SUGGESTED TIME (see chart at bottom of this page)*.
The hot surface browns the food while microwave energy cooks it.
TURN FOOD OVER AFTER 30 seconds to 2 minutes AND MICROWAVE for desired doneness.
For extra browning turn food onto unused cooking surface. Rotate browner.
REMOVE DISH CAREFULLY as the coated part of the dish becomes VERY HOT.


Use pot holders.
Place hot browner on trivet to protect counter top or table.
For additional servings remove excess food etc. and preheat browner again, about one-half-original preheat time before adding food.
*Microwave oven manufacturers may provide charts or recipes for using browners in their brand of microwave ovens.
BROWNING HINTS
To improve browning and prevent sticking, coat cooking surface of browner with small amount of butter or margarine just before adding the food.
To increase browning use a spatula to flatten or press food against cooking surface for better contact.
The skillet cover helps reduce splattering, but may produce a "steamed" product.
Experiment with preheat times. Successful microwave browning depends considerably upon personal taste preferences.
Thaw food completely before browning. Ice crystals in food prevents browning. Excess moisture decreases browning.
CAUTION
DO NOT … use on rangetop or in conventional oven.
DO NOT … cook on coated underside of browner.
DO NOT … use browner with any plastic or paper accessories.
DO NOT … place glass cover under a browning unit.
TYPES OF MICROWAVE BROWNERS
BROWNING SKILLETS with heat-resistant glass covers.
Skillets are ideal to brown or sauté foods. Add other ingredients, cover and microwave. These skillets also can be used as regular microwave cookware. The surface does not function as a browner when covered with food.
BROWNING GRILL
The Browning Grill has a slightly sloping service which allows fats and juices to drain away from the food into the well surrounding the cooking surface. Its flat design makes it easy to turn food over.
CARE AND CLEANING - BROWNER DISH (AND SPECIAL COATING)
Wash Dish in hot sudsy water.
For cooked on food soak in hot sudsy water. Use a mild cleanser such as Bon Ami Cleanser, or plain plastic mesh pads.
DO NOT use metal or abrasive pads — such products can scratch.
CARE AND CLEANING - GLASS COVER
A hot cover can break if placed on a wet surface or in water.
CorningWare Browner Cooking Chart
If you are using a mobile device that will not allow you to scroll the pdf, you can view the PDF of the Corningware Browner Cooking Chart directly.

Search for Browning Utensils Available at eBay
If the item you are looking for is not listed, then bookmark this page and check back each week!
Eventually, your item should show up for sale.
When it comes to finding Browning Utensils that are difficult to find in stores near you, one of your best resources for acquiring the items you want are sites like Amazon, Etsy and eBay, where there are a lot of wonderful finds still in the original boxes. We all receive those odd items as gifts that we have no need for and never use. Yet, one person's junk could be exactly the treasure you want.