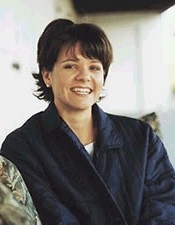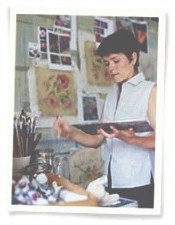 Cheri Blum
Cheri Blum went from being an unknown artist to a household name almost overnight. She certainly had a fairy tale story. Yet despite her huge success, Cheri was a modest and gracious young woman who remained true to herself. She placed high value on her beliefs and reflected them in her art. She appreciated simplicity and natural forms and admires things with a sense of history and nostalgia.
Morning glories, climbing vines and an eclectic cottage garden welcomed any visitor to Cheri Blum's studio. Cheri's cat Scrappy lazed in the sunshine among flowers that grew from worn-out shoes or assorted cans, wash basins, and crab pots.
"My studio has become my sanctuary," said the artist. Nestled on the banks of the Sassafras River in Maryland, the former nineteenth century tenant farmer's house was brimming with eclectic treasures the artist rescued from flea markets, deserted beaches and family attics. Here Cheri surrounded herself with an ever-changing array of artifacts collected in antique shops, flea markets or on walks along the beach. A fragment of an old loom was used to display her paintbrushes. A broken lamp served as a candleholder. Even the sign outside the door was unconventional: it was made from a racing sail.
"I'm drawn to things that are old, have character and a sense of history," Blum said. "To me, the older an object gets, the better it looks. It doesn't wear out, it wears in." The overall effect of Cheri's surroundings is one of natural everyday elegance. Like the paintings of this talented young artist, her studio was beautiful, casual and comfortable.
Clearly, Blum's paintings take on the character of the antiques she loved. She perfected a method of painting on cracked linen that conjures up images of Italian frescos.
"My goal is to take the fine art aspect of the Old Masters and combine it with a worn handcrafted look that suits today's styles. I love to find unusual painted surfaces and create something from nothing."
To create the effects of time and weather, Blum went so far as to put a completed painting in the washing machine. Even if she bought something new, she painted it to look old. She continued to experiment so that each piece of artwork paid homage to the beauty of time passing by.
Sadly, Cheri Blum passed away unexpectedly in November 2003 leaving behind a body of work that is still sought after by devoted fans.
Cheri Blum Dinnerware Collections