Julia Junkin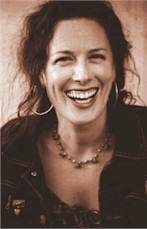 Julia Junkin is a Napa Valley artist, recognized throughout the country for her hand painted ceramics, glasses and linens. Her palette of yellow, red, blue and olive is inspired by the hues of Tuscany, while her loose, expressive strokes capture the pleasures of everyday life.
Julia says, "I am often asked where my ideas come from. For me, my passion is capturing the magic of a moment ... it's about the little things; like opening a pretty green box tied with a bow, sitting at a table with friends eating yummy food and drinking wine, or seeing a shooting star. These moments inspire me to create art that we can use in our everyday lives. My wish is that my ceramics will add a touch of beauty and humor to your life and inspire your heart to smile.
Julia combines beauty and function to set an artful mood with her line of hand-painted ceramics. Her most popular lines include Olives (reminiscent of Tuscany) and a whimsical red wine story.
Julia attended the Cornish School of Arts in Seattle and Academic des Beaux Art in Aix-in-Provence. She lived in Seattle and Chicago before establishing her studio in Napa Valley. Be sure to follow Julia Junkin at Facebook.
Julia Junkin Kitchen Towels
Julia Junkin Aprons
Julia Junkin Dinnerware Collections