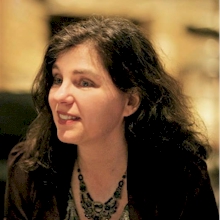 Sue Zipkin
Sue Zipkin has created a national following for her unique watercolor designs. Her innovative color combinations and playful artwork bring a fresh sophistication to the home furnishings and gift markets. Sue's art transcends the test of time. Designs that were created over 12 years ago are still being collected and sought after by many loyal fans.
Sue's designs perfectly reflect her upbeat playful personality. Whether it's a bright rainbow palette or a spectrum of soft pastels Sue's work can be uplifting to the sprit. She often gets emails from people who write her and say "when I see your art I feel happy." You can feel happy too by following Sue Zipkin at Facebook.
Sue's art can be found on many products, including: greeting cards, stationary, home décor, paper party goods, scrapbook pages, fabric, and more. She is most recognized for her top selling dinnerware designs for Sakura, Sango and most recently Certified International. Sue loves to work closely with her clients. She believes that her unique vision and understanding of product design enables her to provide fresh ideas for each product.
Sue graduated from the School of Visual Arts in 1983 and started working as an in-house designer, one of the first companies she worked for was a well known casual everyday dinnerware company. In 1989 she had a dream: to become an independent designer and bring her art to a wide variety of products. While working in-house she was told that most designers that go off to work on their own fail. She knew then that it was her destiny to succeed as a licensed designer. She created a portfolio and followed her passion.
Currently Sue lives with her patient, supportive husband Bob, her sweet silly son Max, and her senile cat Sammy. They live in a home in the suburbs of NY and their home is high on a rocky hill that overlooks a magical forest like backyard.