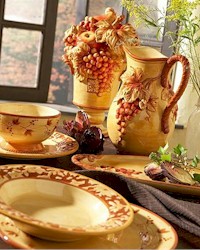 Del Vino by Fitz and Floyd
The colors and style of the harvest bring well-crafted splendor to your table with the Del Vino dinnerware collection. Made of ceramic, each piece is hand-painted, adorned with grapes, autumn leaves and bucolic images of the European countryside. Select one of the three patterns, Flowers, Grapevine, or Trellis, or mix and match the patterns together to create a unique table.

Del Vino Flowers — Rustic hues combine with a textured design to form the Del Vino Flowers collection that will enhance both modern and traditional tabletops. With a detailed floral motif and organic shape, this nature-inspired collection will bring beauty to your home.

Del Vino Grapevine— Lend your tabletop a wine country aesthetic with the hand-painted Grapevine collection reminiscent of rustic, handmade pottery. With an orange border and graduated shades of mustard yellow, this collection evokes the beauty of a sun setting over a vineyard.

Del Vino Trellis — Charmingly rustic in mustard and burnt orange hues, the earthy Del Vino Trellis set uses a grape and vine pattern to evoke a fresh, wine country feel. Textured plates and warm, sunset tones combine to make your dining experience a cozy one.
Fitz and Floyd Del Vino was offered for sale exclusively at Macy's from 2007 to 2008. If you need replacement or additional pieces for your collection of Fitz and Floyd Del Vino, monitor this page on a weekly basis for new listings. If you are in a hurry, here's what's available right now for immediate purchase: