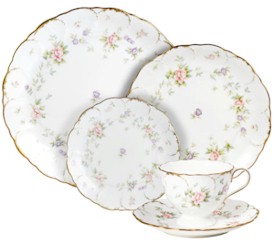 Endearment Fine China by Mikasa
Endearment Available Directly from Mikasa — Originally produced from 1999 to 2008, Mikasa Endearment was brought back by popular demand in 2012. Steeped in the beauty of another era, this pattern will quickly become an enduring classic. Endearment gives a classic floral pattern a touch of contemporary flair while retaining the traditional elements that make the style so enduring. A garland of delicate flowers in a soft palette frame a single center flower, and the scalloped shapes of each piece in this dinnerware collection are accented by gentle gold highlights. The touches of gold easily enhance the simplistic elegance of the petite flowers — ready to make the ultimate traditional presentation. This pattern is not safe for use in the microwave.
A five-piece place setting of Mikasa Endearment includes: 10½-inch dinner plate, 7¾-inch salad plate, 6½-inch bread & butter plate and 6-ounce tea cup and 5¾-inch saucer. The collection is available in: 5-Piece Set (1 place setting); 20-Piece Set (4 place settings); 40-Piece Set (8 place settings); and 60-Piece Set (12 place settings).
Endearment Fine China by Mikasa Pattern Family