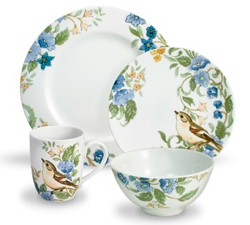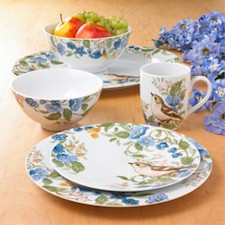 Fantasy in Blue by Mikasa
Fantasy in Blue Available Directly from Mikasa — Fantasy in Blue is a delightful garden pattern that adds a touch of nature to any tabletop. The traditional feel of a floral watercolor in a fresh spring palette of blue, yellow, and green is brought to life with the addition of a charming bird sitting on one of the branches. Made of high quality porcelain. Microwave and dishwasher safe. Mix and match with Fantasy in a summer palette of orange, blue, and green.
Mikasa Fantasy in Blue was produced from 2012 to 2014. If you need replacement or additional pieces for your collection of Mikasa Fantasy in Blue, monitor this page on a weekly basis for new listings. If you are in a hurry, here's what's available right now for immediate purchase:
A four-piece place setting of Mikasa Fantasy in Blue includes: 10½-inch dinner plate, 8¼-inch salad plate, 20-ounce soup/cereal bowl and 12-ounce mug. The collection is available in (Clearance Priced): 4-Piece Set (1 place setting); 16-Piece Set (4 place settings); 32-Piece Set (8 place settings); and 48-Piece Set (12 place settings).
Fantasy in Blue by Mikasa Pattern Family