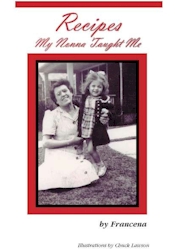 Nonna and Fran. Click for Larger Image.
A Lasting Tribute To An Adoring Grandmother
When Francena (Fran) Hall was a little girl, she would visit her Sicilian grandmother, Nonna (Frances Amari Giallombardo). Her house gave Fran a warm feeling because Nonna was always cooking. Typical of most good cooks of her generation, Nonna never followed a recipe. So Fran would watch carefully and write down all the ingredients. It was a delight for Fran to watch as Nonna used a pinch of this and a handful of that. Everything she made was absolutely delicious. Nonna would say, "mangiare, mangiare," which means "eat, eat."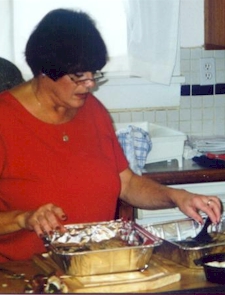 Fran busy in the kitchen
Fran has never thought of herself as a great cook, but quite a few of her friends would disagree. "Cooking is not difficult," says Fran. "But there is more to cooking than just preparing the food. Cooking is a combination of various tastes, colors and textures. No matter how delicious the food, if it does not look appetizing it will not taste good. Appearance is as important as taste."
As a tribute to Nonna, and to preserve the great delights of her Italian heritage for her daughters and their children, Fran collected her grandmother's recipes, as well as some of her own creations, into a cookbook, Recipes My Nonna Taught Me.
This is a wonderful collection of recipes that anyone who wants to learn to cook authentic Italian meals should not be without. Adding to the charm of this cookbook are Fran's personal comments about each recipe. There are also notations of which wine to serve with each recipe, provided by Ardie Bonanno, an importer of fine wines.
The cookbook was originally intended for just Fran's family, but when friends started asking for copies, Fran was encouraged to offer the cookbook for sale. The only way to get your copy of Recipes My Nonna Taught Me, is to contact Fran by emailing her at fslyd@aol.com.
Some of the recipes are very simple and require almost no preparation, but others are more time consuming. Most of the recipes can be made without adding salt and by using very little fat. Fran has received glowing reviews of her cookbook. Several people enjoy the cookbook because many of the recipes are vegetarian and low in fat. Quite a few Italians have purchased the cookbook. Some have commented that it brings back fond memories of their own childhood (this author included).
We are thrilled that Fran is sharing her recipe for Pasta Stuffed Mushrooms here, adapted for the microwave ... mangiare, mangiare!

Pasta Stuffed Mushrooms
1/3 cup water
¼ tsp. salt
¼ tsp. vegetable oil
Add salt and orzo. Cook 3:00 minutes (_____) at 100% power. Set aside.
1 8-ounce package mushrooms
Clean mushrooms and remove stems. Arrange mushrooms, cap side down, in lightly greased casserole dish. Set aside.
15 oz. can diced tomatoes
pinch of salt
1/8 tsp. pepper
2 tbsp. grated Parmesan cheese
Mix orzo, tomatoes, salt, pepper and cheese together in a bowl.
Fill each mushroom cap with pasta-tomato mixture. Sprinkle with basil. Cook 6:30 minute (_____) at 100% power until warm. Serve.
NOTE: Cooking times are for a 700-watt oven. For best results with this and any other microwave recipe, please be sure to go to the Timing Section of Microwaving Tips for a complete explanation of timing in the microwave.