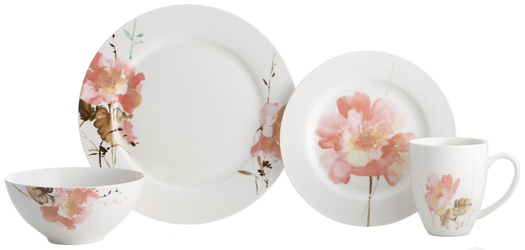 Amore by Oneida
Introduced in 2013. You can almost smell the delicate wild roses that grace Amore dinnerware. Elegant and durable, this dinnerware is perfect for everyday use or special occasions, and is sure to attract attention. Microwave and dishwasher safe.
The Oneida Amore 16-Piece Dinnerware Set includes four each: 10½-Inch Dinner Plate, 8¼-Inch Salad Plate, 6-Inch Soup/Cereal Bowl, and 13-Ounce Mug, and is available at:

Please Note: Not all Oneida is safe for use in the microwave. Patterns with gold or platinum decorations should not be used in a microwave because microwaves can not pass through metal. If in doubt, use this simple test: Is this Utensil Safe for the Microwave?